Best Excel diff tool to compare and merge Excel files
How to compare Microsoft Excel files for differences using xlCompare tool and merge changes
xlCompare is a leading Excel Diff solution on the market. Excel Diff Tool greatly boosts your effectiveness and productivity. Excel file comparison tool gives you detailed comparison report with all differences found in Excel files. With xlCompare complex and time-consuming work became simple!
Excel diff tool compares Excel files for difference. Download Excel diff tool (xlCompare) to get comprehensive diff report for Excel files. Excel file comparison has never been so fast and easy!
Using Excel File Comparison Tool helps you to reach your business goals faster
In the modern world - this is important competitive advantage
+ Compare Worksheets
+ Compare VBA Code
+ Merge Excel Files
+ Command Line Mode
+ Lifetime License
+ No future payments
+ Updates included
+ Support included
16 years on the market
With a team consists of industry experts we developed a powerful and reliable
best excel comparison tool
to bring your productivity to the highest level. Armed with xlCompare, you will compare Excel files for differences in seconds.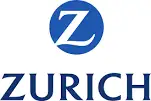 Actual value of this tool is a cost of your time, spent on the spreadsheet comparison tasks. xlCompare is more than a regular Excel file comparison tool, it is your partner!

「Spreadsheet Tools社と素晴らしいパートナー契約ができたことをうれしく思います。
xlCompare
は当社のドキュメントソリューションに貢献してくれるでしょう」 株式会社ヒューリンクス 常務執行役員 若林 登
xlCompare is Excel Diff Tool that compares two or three Excel files for differences
Compare cells and formulas in the Excel files
| | |
| --- | --- |
| | Compare Cells |
| | Compare Formulas |
| | Compare sheets by key column |
| | Compare sheets cell-by-cell |
Merge multiple Excel files and sheets
Compare VBA projects and forms
| | |
| --- | --- |
| | Compare code in visual basic modules. More ... |
| | Compare controls on forms in the vb project. More ... |
Compare two or three Excel files at once
Compare excel sheets with common base version, integrate xlCompare into SVN\GIT environment. xlCompare is a software that does a
diff function
on the Excel files.
More ...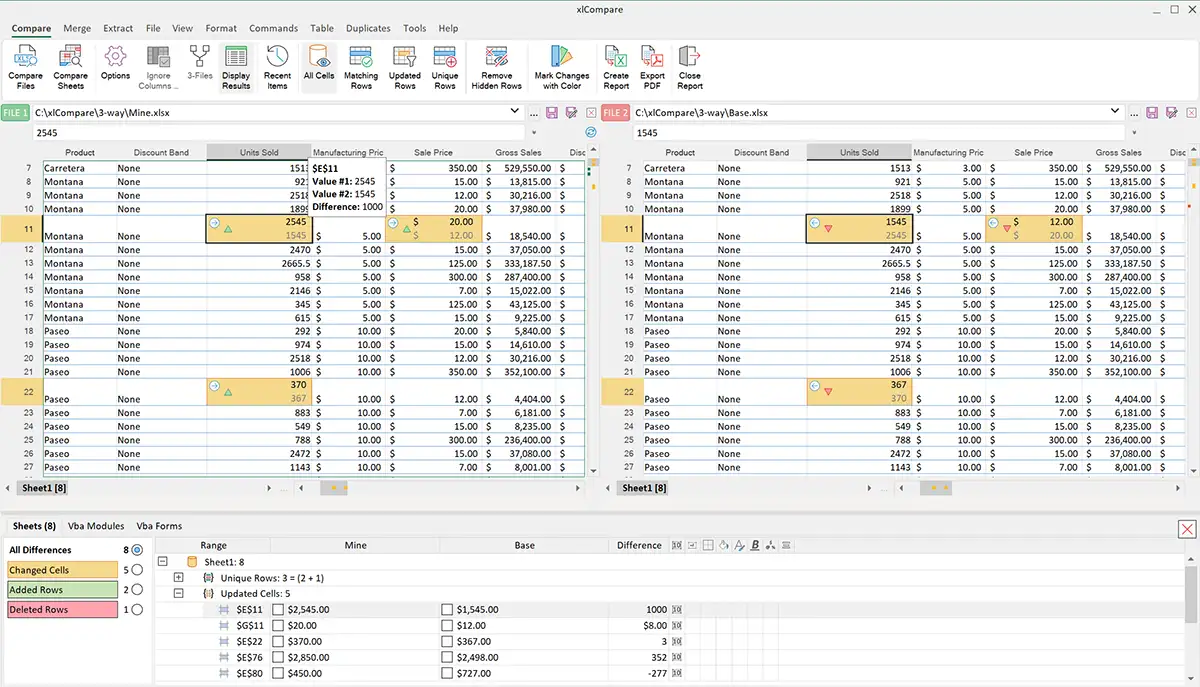 What are the benefits of choosing xlCompare?
Save your time
You can compare excel sheets using conditional formatting, VBA macros and
other methods
. But every of these methods take your working time. If you select xlCompare as your Excel Diff Tool you need to spend only a few seconds. xlCompare does this job for you at a reasonable price.
Precise results
Our specialty is Excel worksheet comparison. If you give every job to professionals - you receive best results.
xlCompare
is a solution you need! Try it and you will be fully satisfied.
Increase productivity
Armed with xlCompare you move your professional efficiency to the highest level. Just focus on the important primary tasks of your business.
Error-free solution
Every year companies lose millions of dollars due to errors in their data. Are you sure you want to increase this statistic?
Our primary goal is to give you best and the most powerful Excel file comparison tool
xlCompare converts complex and time-consuming tasks into set of simple actions. It greatly simplifies your business processes.
Primary advantages of Excel File Comparison Tool - xlCompare
Our purpose is to give you
best excel diff tool
to save your working time and boost your productivity to the highest level.
Simplicity
Simplicity reveals the beauty of xlCompare. Advantage of xlCompare is not only to effectively compare or merge Excel sheets or files, but to do this process as simple and convenient as possible.
xlCompare works in the following way:
Drop your files into xlCompare
Get the clear results
We've minimized number of settings and options you should use to get the results by using several AI algorithms.
You should not spend you time to select various comparison settings to get the results.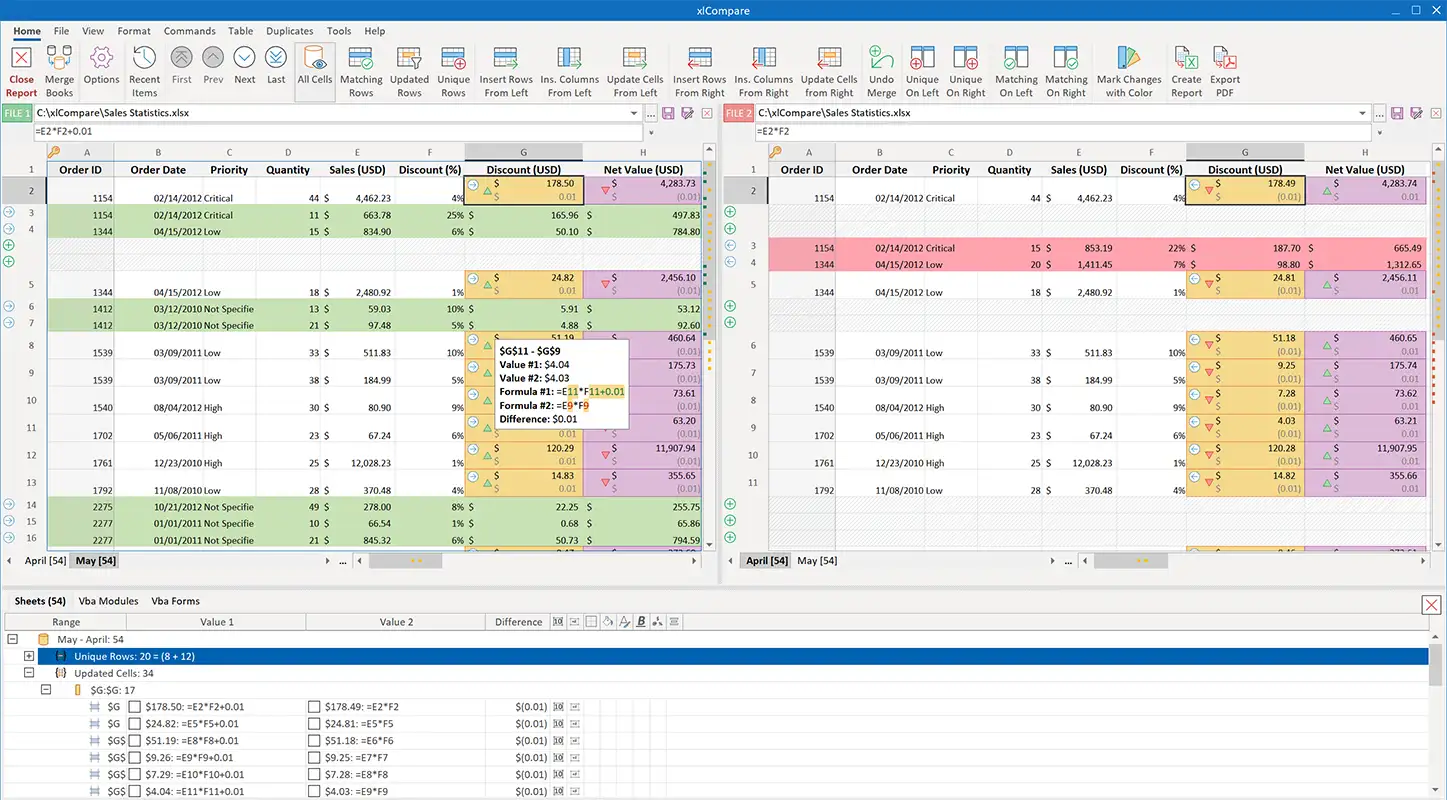 As a professional Excel/VBA developer, XLCompare has become a fundamental tool in my development process. It works on even the most code-heavy and complex of workbooks, and is something I just couldn't do without.
Comprehensive Excel file comparison
xlCompare is fast and best performing Excel file comparison tool. Excel file comparison tool detects all modifications in your Excel files. Formulas and macros are compared on the function level - this gives you best and accurate results when you compare Excel files.
Compare three Excel files
xlCompare is an ultimate Excel Diff tool to compare and merge all kinds of Excel files (XLS\XLSX\XLSM\CSV\TXT\...). Compare multiple Excel files for differences. Integrate Excel file compare tool into SVN and GIT tools and source code control systems. Command line mode allows to integrate xlCompare into any third-party application that requires Excel diff checker. Use xlCompare to resolve merge conflicts between different versions of the same Excel file (3-way compare and merge for Excel files).
Compare Excel files by key columns
xlCompare is the best Excel file comparison tool, that finds differences in two Excel files. xlCompare is the best way to compare Excel files quickly and effectively. xlCompare gives you set of commands to define and edit Primary Key Columns on your sheets in the easy and native way. With this Excel Compare Tool you extract unique records from your database, filter updated and matching rows, and more ... Join few excel sheets into one in a few clicks. (more ...)
Excel diff tool with command line mode
Use xlCompare for SVN\GIT integration. If you are working in the multi-user environment and have SVN\GIT system installed - xlCompare is a perfect excel diff viewer and merge tool for XLS\XLSX\XLSM\XLA\XLAM files and CSV\TXT files. Easy integration allows to use it with most popular source code control systems.
Merge cells and entire rows in one click
xlCompare is more than just Excel file compare tool. It gives you commands to merge inserted rows and modified cells between sheets in one click. Easy to use merge commands copy all new rows and edited cells from one worksheet to another in just a second. Worksheet consolidation was never being so easy. Just in one click you can combine several Excel files into one.
Perfect Visual Representation
In the Extended View mode xlCompare shows original and modified value in one place. xlCompare shows you difference between two modified cells with trending icon, that indicates increase or decrease of the value. In the modified formulas we highlight edited characters. xlCompare puts your focus directly to the changed data.
Extremely fast performance
xlCompare is optimized to work with very large excel files. It opens XLSX files faster than Microsoft Excel, and compares Excel sheets with 1 million of records in a seconds. Set of algorithms, adopted for specific data structures, gives you accurate comparison results in a moment.
Rich set of options
xlCompare has a lot of options you can use to do your work much faster. Comparison accuracy, ignore specific characters, exclude hidden rows and columns, exclude calculated values, ... Application has long list of features you can find here: xlCompare Features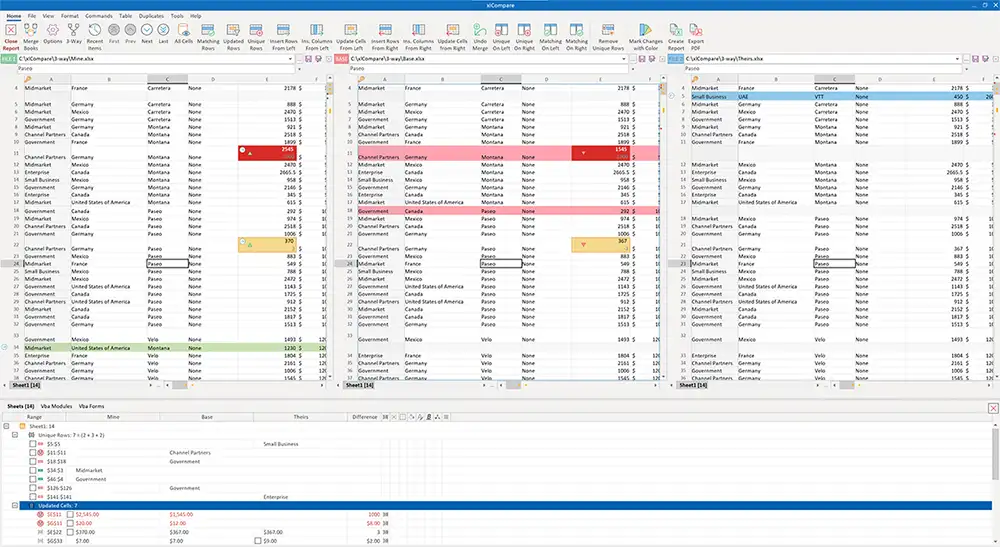 Very nice your software, the 3 ways blowed my mind out, I did a 2h job in 10 minutes (I looked 5 sec at my screen without moving because I was so surprised).
xlCompare gives you ability to perform excel worksheet comparison quickly and flawlessly. Armed with this tool you can focus on the results without waiting for them. If you value your time, you will make the choice!
Key differences between xlCompare and other Excel file comparison tools?
All Excel diff tools solve the same task - compare Excel files for differences and display results for the comparison. Results are higlighted with colors. From this point of view all Excel diff tools are identical. But there are details, that helps you to choose one tool over others.
Using side-by-side view to display worksheets
This feature is used by all Excel diff tools. This is the best and most suitable layout to present results in the compared Excel files. xlCompare gives it to you by default when you start it. While other tools need to configure Excel application to tile worksheets vertically on when they start the comparison.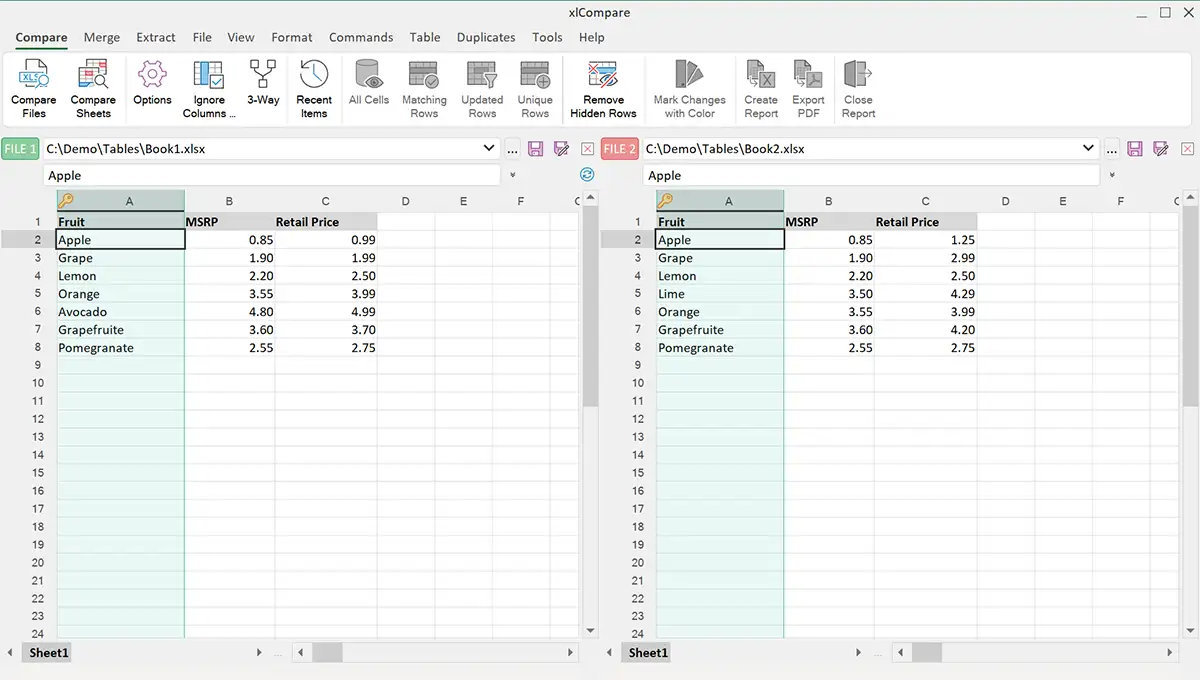 How we report changed cells in the compared Excel sheets
Just look into the image below to see how xlCompare displays you information about changed cell on the worksheet.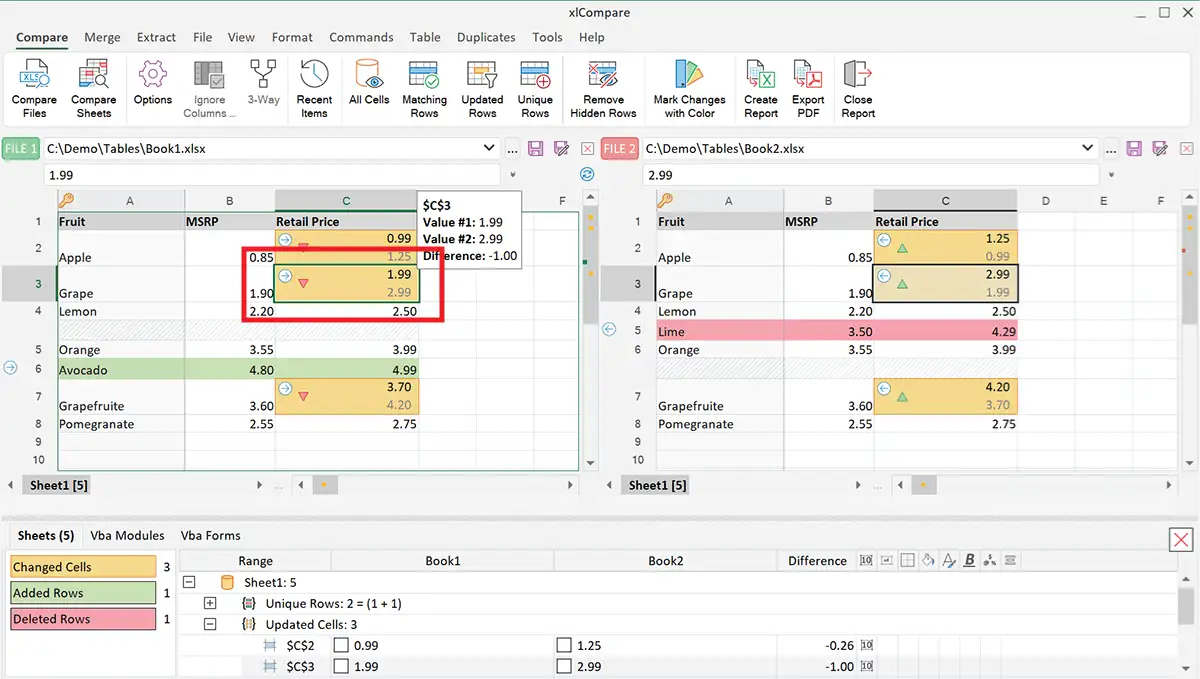 You see original and modified value, difference and tendency arrow that indicate increase or decrease of the cell value.
Align matching rows on the worksheets
Highly important feature. xlCompare inserts virtual rows into worksheet, where corresponding one contains unique rows. So, when you browse diff report matching rows are always one vs. one. This greately help you to analyze comparison results, when you've compared two Excel files for differences.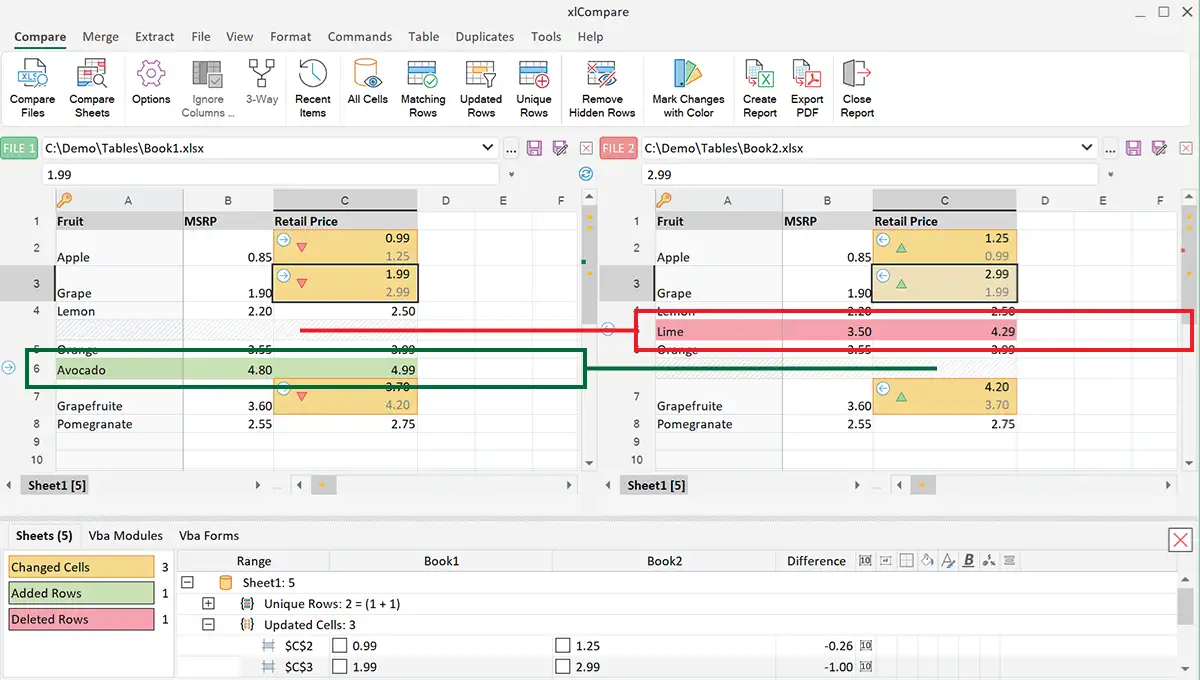 Commands to merge changed cells between Excel files
Every changed cells and new row(column) has merge button. Just press this button and call value(formula) or entire row is copied into the corresponding Excel file. You don't need to play with copy and paste commands to move the worksheet data frome file to another.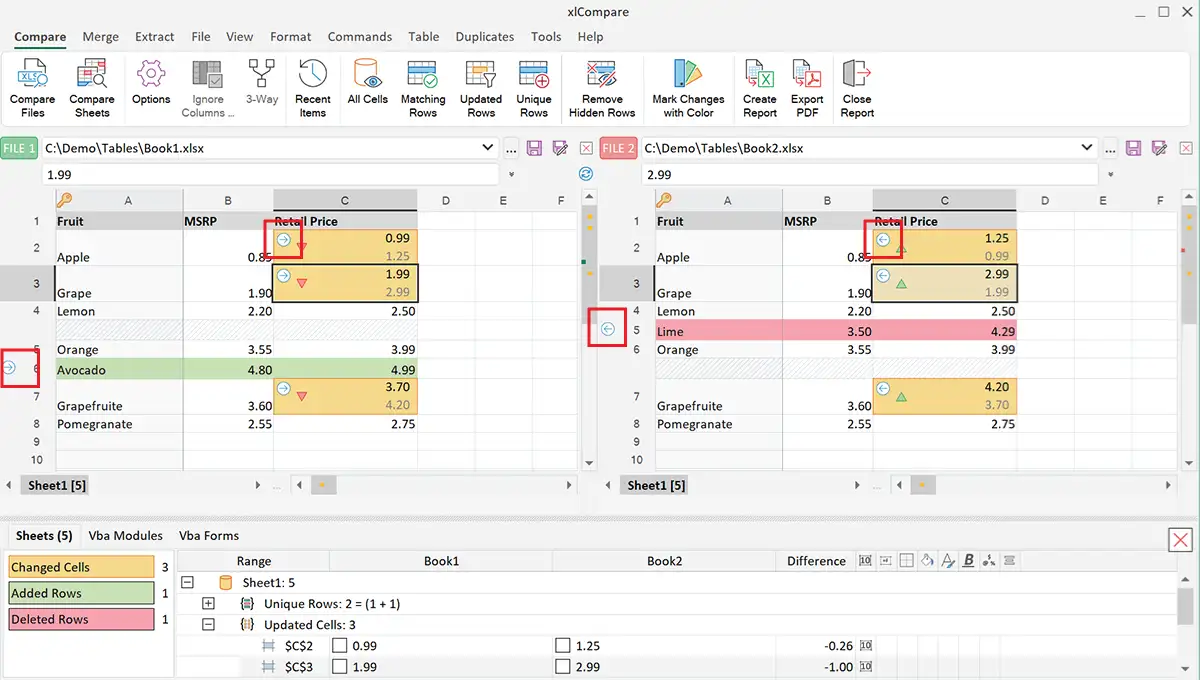 Ignore columns on the worksheet
Imagine, you don't need to compare data in some columns. What to do? xlCompare gives you easy way to uncheck the columns you don't need. Easy and quick!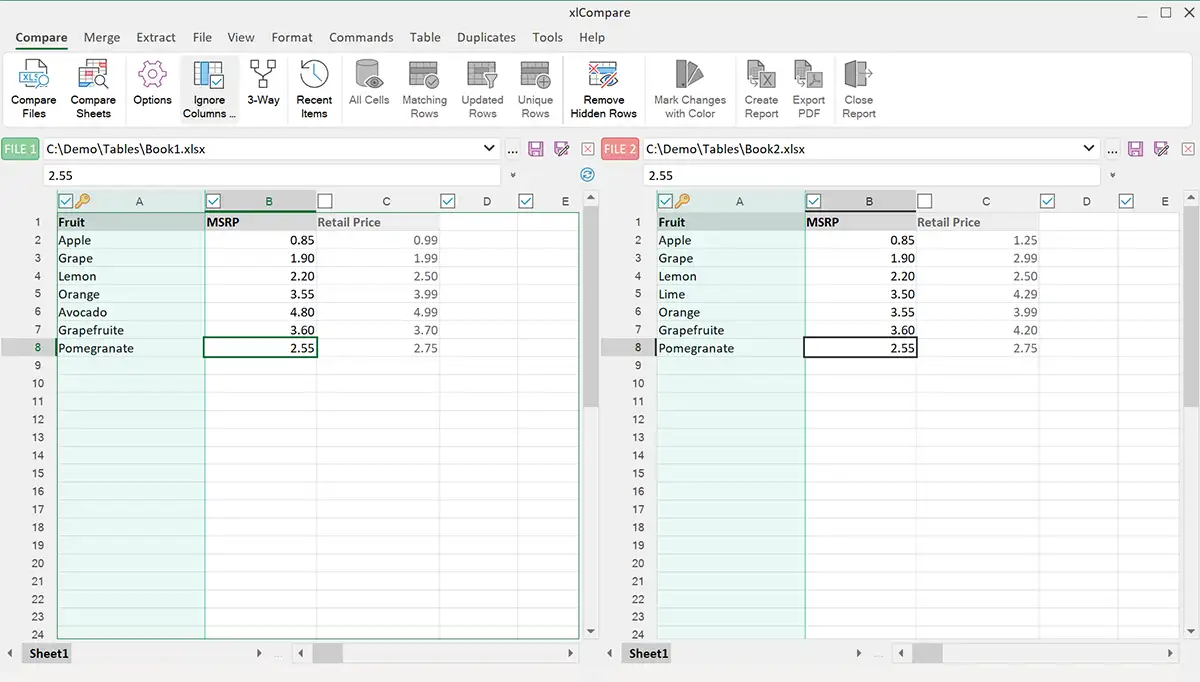 Compare VBA forms for differences
In this component xlCompare is unique tool. No other Excel files comparison tools compare forms and controls in the Visual Basic projects. You may say that most of the Excel files comes with data in the XLSX or CSV formats. But there are a lot of Excel developers around the world and we can't ignore their needs.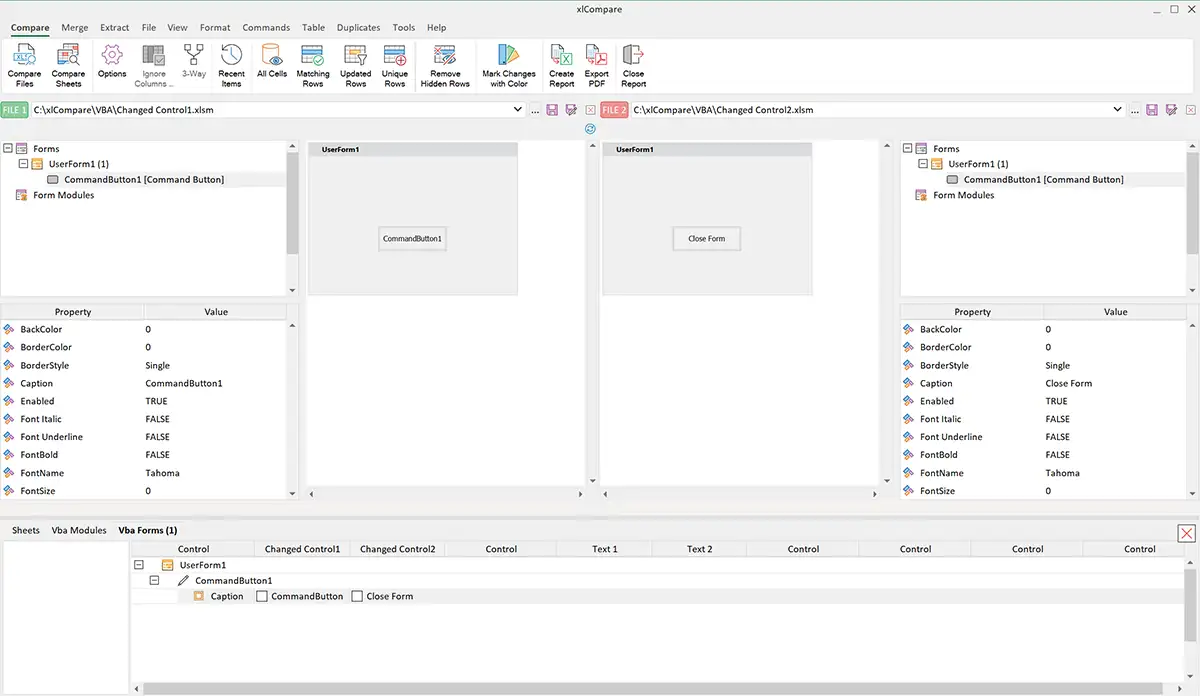 Excel diff tool with command line mode
Integrate xlCompare tool into SVN or git software as an external Excel diff viewer. xlCompare has all you need to resolve merge conflicts, while most of the Excel based tools doesn't provide you command line mode.
Compare three Excel files
In some cases you need to compare three or more Excel files for diffs. What to do if your tool allows to compare only 2 Excel files(sheets)? This is not a problem for xlCompare. It compares 3 Excel files and synchronizes changes. You are getting report that points you to common and different records in your Excel files. Also it highlights conflicted cells and rows, if they were changed in all three Excel files.
Are you looking for Best Excel Comparison Tool?
How to compare Excel file comparison tools on the market and choose the best one
If you search for Excel file comparison tool - Google gives you 5 or more tools you can choose to
compare Excel files
for differences. Which one is the best Excel file comparison tool?
You don't need to analyze spreadsheet comparators market yourself to find the top excel file compare products. Just investigate the list of xlCompare features. Excel diff tool
xlCompare
offers the most complete set of spreadsheet comparison and merging features to its Excel users.
If you are working with spreadsheets that have identical structure and relatively small size - Excel itself is the best in this business. You can compare such files using one of the instructions on
this page
, without using excel diff tool. But for complex spreadsheets, that have unique rows and columns, or if you are doing this regularly - you need an excel diff tool. And this is the best place where to find robust and simple in use utility -
Download xlCompare
.
Make a conclusion on choosing best Excel file compare tool
The most important benefit you get from xlCompare is simplicity. This tool transforms complex and routine actions into simple steps and gives you results without any efforts!
Complete Spreadsheet Comparison
On the Features page we've published a summary of the features collected from excel comparison tool reviews. xlCompare covers all of them.
Biggest Set Of Options and Commands
xlCompare has more options than every other tool on the market. This gives you maximum flexibility in checking your sheets for differences.
Best Performance
xlCompare is based on our Spreadsheet Core engine, that opens Excel workbooks faster than Excel application. By working with core objects and state-of-the-art algorithms we give you best performing tool on the market.
Continuous Development
Regular updates give you stability. This is important. We continuously improve the software and publish updates for xlCompare. Look into History of Changes to see the list of regular updates.
Compare cell values and formulas in two Excel worksheets
xlCompare finds changes in:
Cell Values
Formulas
Array Formulas
Background Color
Text Color
Cell Font
Borders
Number Formatting
Text Alignment
Hyperlinks
Conditional Formatting
Data Validation Rules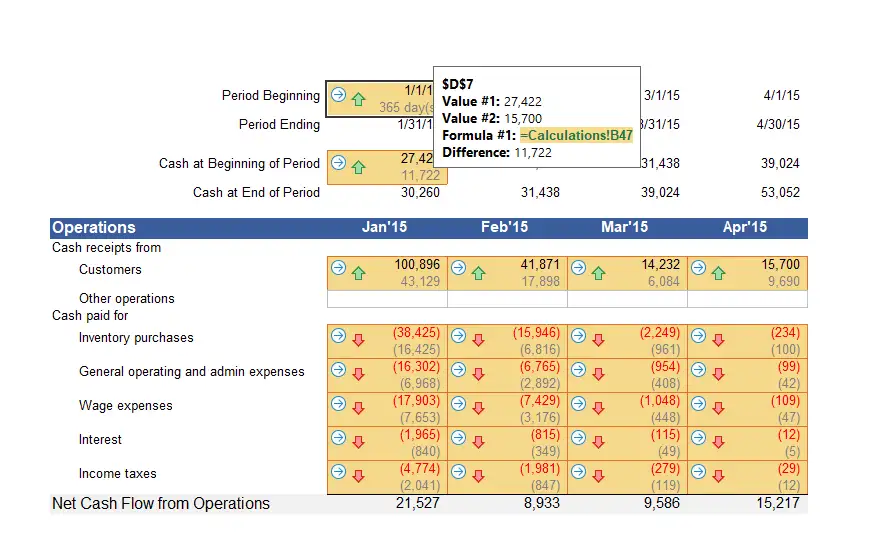 xlCompare is a tool that performs detailed worksheet comparison and gives you perfect color coded comparison report
Find Unique and Matching rows between two Excel worksheets
Find matching rows in two Excel files is a very common task for Excel users.
xlCompare solves it in just a few clicks and gives you ability to export matching rows into another Excel file.
Drop your files into xlCompare and get the comprehensive report for two compared Excel files.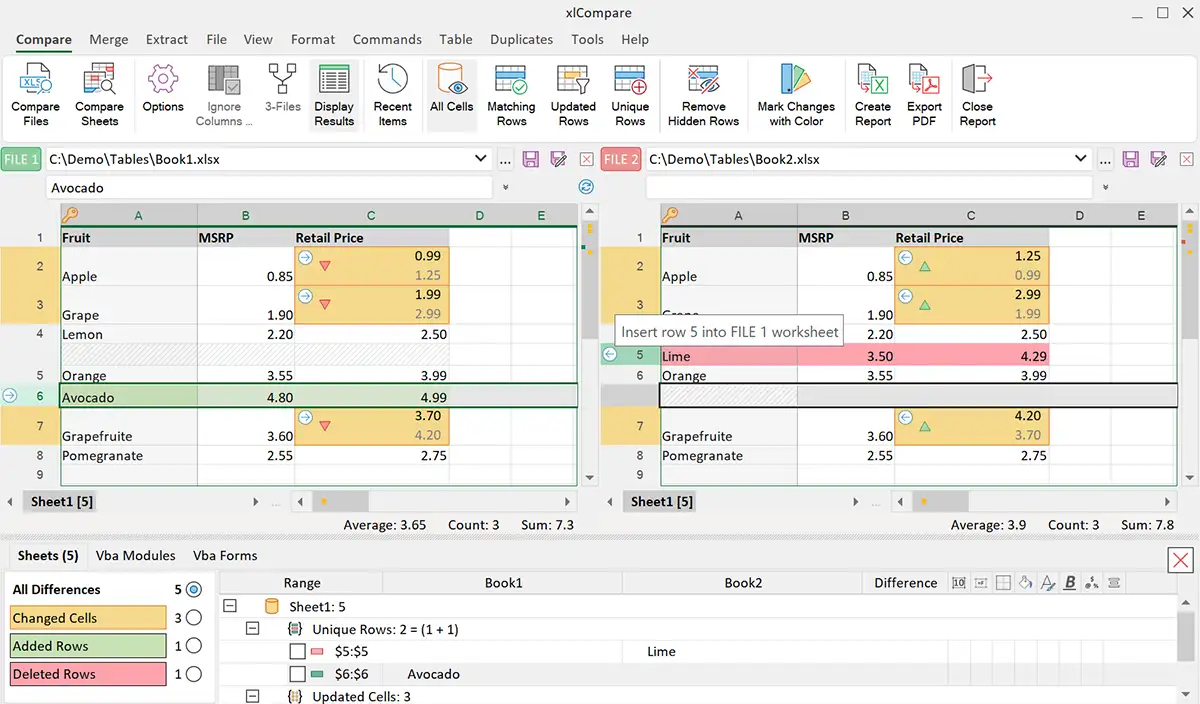 Apply Filter Matching Rows commands and get only equal rows on your screen.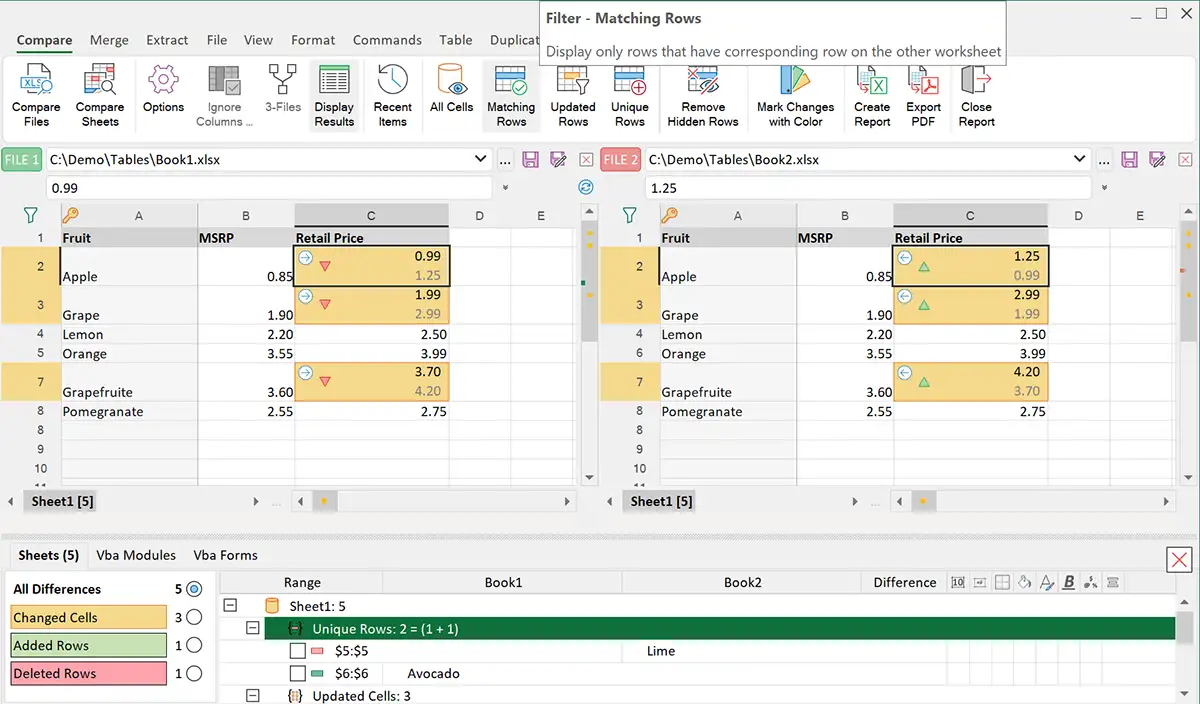 If you need to export rows present in both Excel worksheets for future processing, do the following:
Right click in one of the worksheets
Use Save | Visible Rows command
As you see xlCompare is very easy to use Excel Diff Tool, that saves you a lot of working time.
Combine Several Excel Sheets into One
Compare cells on 2 or more Excel sheets and combine them into single sheet with
Merge and Bulk Merge
commands.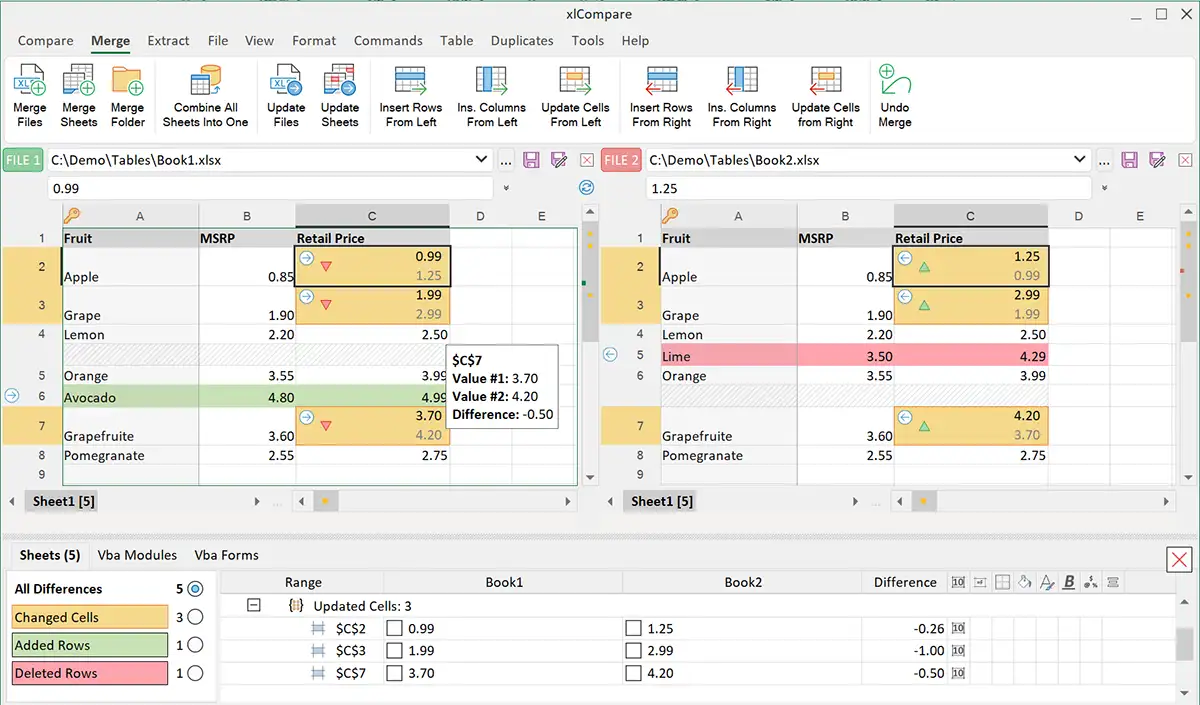 Merge Excel Files
Combine contents of the opened Excel files into one file. Contents of the worksheets with same names are joined into one sheet. Use this command to consolidate Excel files that have similar structure into one.
Merge Worksheets
Join records on two opened Excel worksheets. This is very simple command, that just copies data from one sheet into another one and preserves cell formatting.
Merge Files in Folder
Use this command to merge all Excel files inn specific folder into one. This command works flawlessly if your files have same structure. In this case after executing it you will get your files merges.
Combine Excel worksheets into one
This command combines contents of the selected Excel worksheets inside one Excel file into one sheet. Use this command if you've received an Excel file, that contains dataset splitted into several worksheets.
Update Files
This command is something like a "smart" merge command. It compares two Excel files for differences first and update right file with modifications found in the left one. It doesn't copy all records from the left file into right one. Only modified cells and new rows are copied.
Update Worksheets
This is same command like
Update Excel Files
described above. The only difference, it is applied to worksheets that are opened in the left and right panels. This means that you can apply it to the worksheets in the same Excel file.
Comprehensive Color-Coded Difference Report
One of the most important benefits you are getting from xlCompare is a native and clear representation of the comparison results.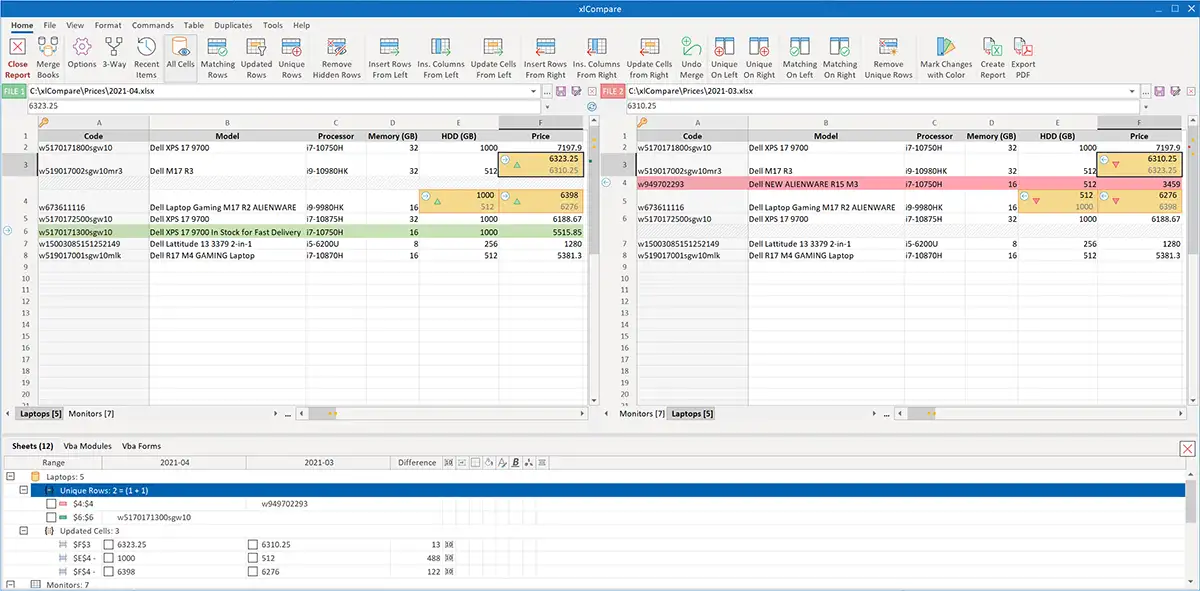 Highlighted Updated Cells
All cells that was updated in your Excel files are highlighted with orange color. Tendency Icon before numeric value indicates increase or decrease of the value.
Highlighted New Rows
All rows and columns that doesn't have matching item on the corresponding worksheet is highlighted with color. Left row receives green color, right row receives red color. This makes unique items are clearly separated from other data on the worksheet.
Aligned Rows
xlCompare inserts space into the worksheets to synchronize new rows. This feature allows to display modified cells on the same places on both worksheets. You should not look over your file to find the corresponding cells. Just look into other panel - corresponding cell is on the same place!
Display corresponding value in same cell
xlCompare has an option that displays original and updated cell value in the same cell. You should not look into the other panel for the correspondent value. You are getting it immediately.
Display difference below cell value
In addition to the option described above xlCompare is able to display difference instead of corresponding value. If you need to know how your value was increased - this option will save your time!
Save Color Coded Comparison Report
After you compare two files in excel, you get Comparison Report for your worksheets and VBA projects. xlCompare allows you to save it in several formats.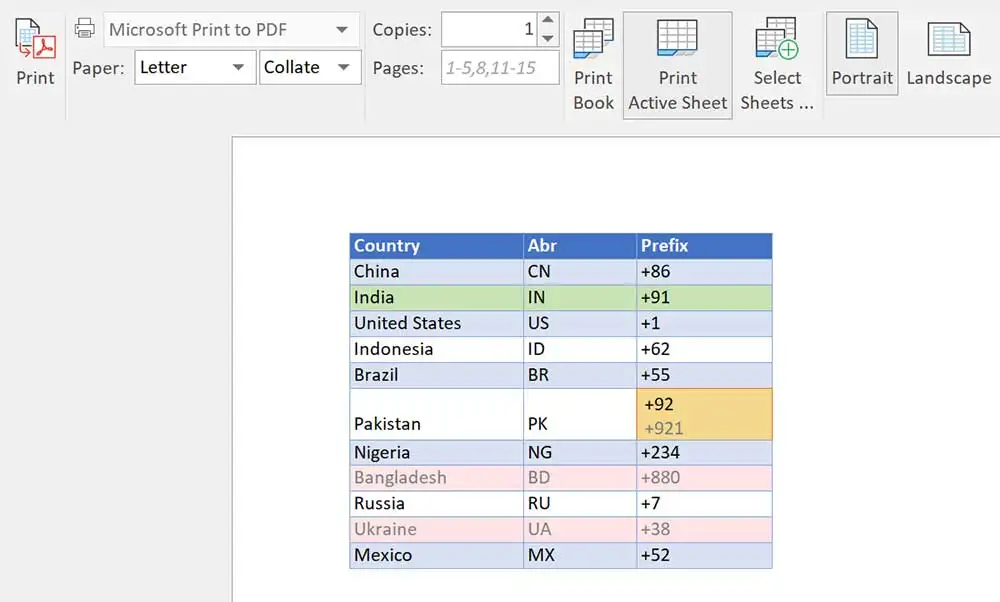 Save comparison report as PDF
How to save report you see on your screen, including tendency arrows, color formatting, modified cell values, etc? Excel worksheet doesn't allow to save data with this formatting options. xlCompare offers you to save this color-coded comparison report in the PDF format, that will look identical to the comparison report you have on your screen. This method is ideal for presentations or to explain difference to your colleagues.
Save comparison report as Excel file
xlCompare gives you outlined report with list of the differences found between processed Excel files. It contains summary worksheet and list of updated cells and added rows, that are grouped on the other worksheets. This is perfect way to save comparison report on your disk.
Export comparison report as HTML
xlCompare uses all power of the HTML language to create presentation for you and save it on disk in the HTML format.
How to identify changed cells in the diff report you are getting from xlCompare
Clear representation of the discrepancies found between two Excel files is a major part of the xlCompare. Look into the image below to see how we introduce modifications found in your Excel files.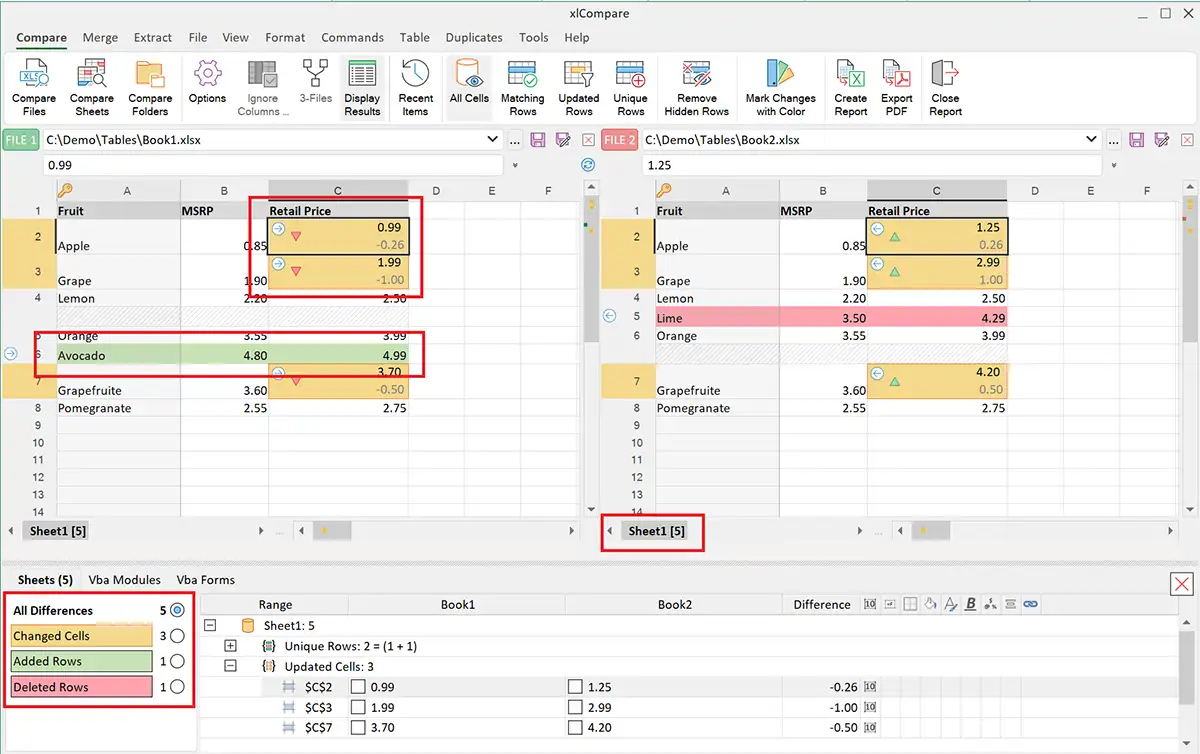 Updated cells gets orage background
All modified cells get orange background color and orange border. With this formatting you will easily distinquish them among other cells on your worksheets.
New and Removed rows get green and red background
Unique rows, that doesn't have matching row on the other worksheet get new background color. This perfectly keeps your focus on this type of difference.
All cells are aligned on the worksheets
xlCompare aligns cells on your worksheets in such way that corresponding cells are always on the same places on the left and right panels. How this is made? xlCompare inserts empty virtual rows into the places where corresponding worksheet contains unique row.
Difference explorer with legend
Look into the bottom of the comparison report. There is a structured list with all the discrepancies found between your worksheets and legend that allows you to filter differences by type in this list.
Sheet Tab reflects number of differences on each worksheet
If you compare complex Excel files, that contains several worksheets, this useful feature will clearly inform you how many differences are on the each sheet.
Sheets without diffs are hidden
This is optional feature. xlCompare hides worksheets that doesn't have differences to out your attention to the different data.
Highlight and Remove Duplicates in Excel Tables
Number of commands, you can use to Filter, Highlight and Remove Duplicate Records.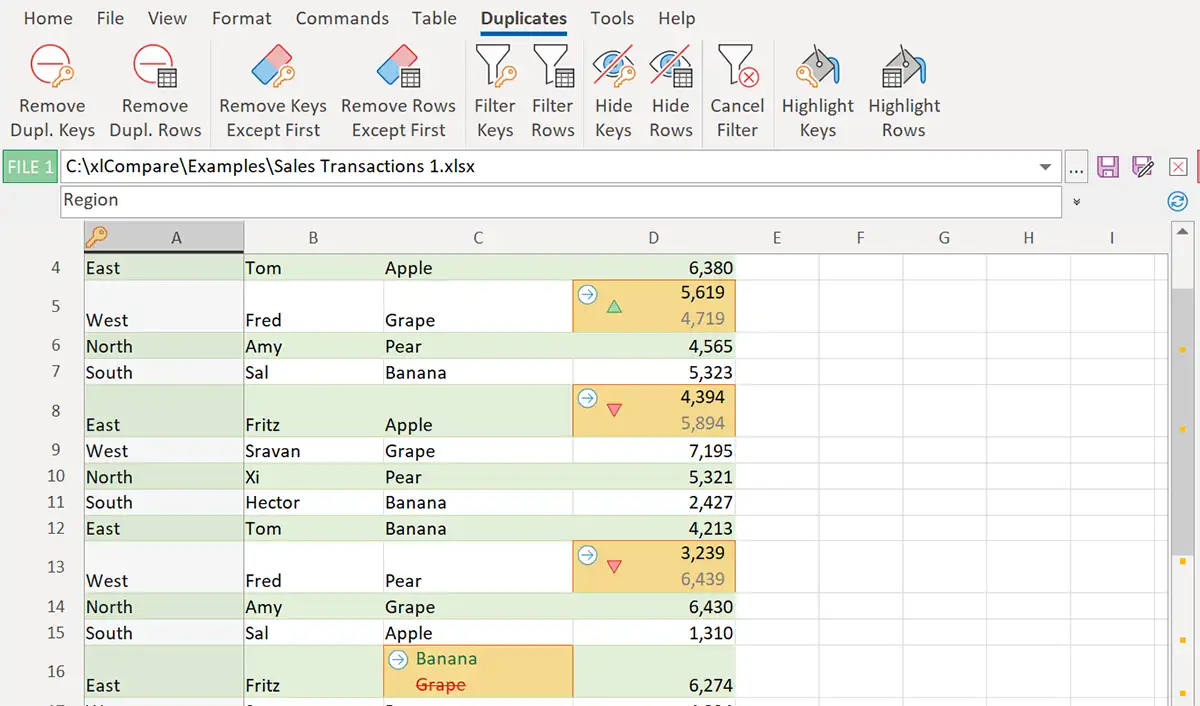 Highlight Duplicates
Highlight equal (duplicate) rows (keys) by color.
Display only duplicate rows. Unique rows are hidden.
Filter matching rows on the Excel sheets
After you have comparison results, you can filter them to print\save or copy to other application.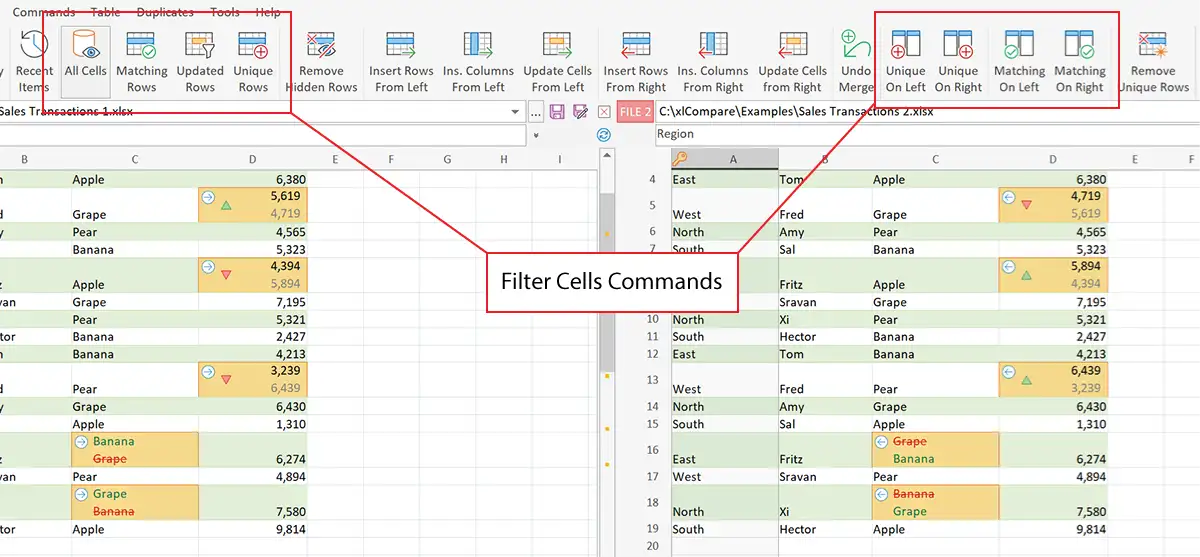 Only Unique Rows
Leave only unique rows on screen.
Only Equal Rows
Leave only rows without modification.
Changed and Equal Rows
Hide unique rows and display only changed and equal ones.
Merge multiple Excel files(sheets) into one
One click mass operations are essential part of the software, designed to quickly merge contents of the Excel files in the various ways.
If you are working with a big datasets:
You needs in quick and powerful merge commands which allows to manipulate whole sheets.
xlCompare gives you
Bulk Merge Operations
- you can resolve all conflicts found by comparison in single click. This greately increases your productivity if you are working with large amount of data.
By choosing xlCompare as your tool to merge excel files, you can solve following tasks:
Merge Excel files into one
Merge Excel sheets in one file
Combine multiple Excel files into one file
Merge Excel sheets from command line
Merge Excel files in the batch mode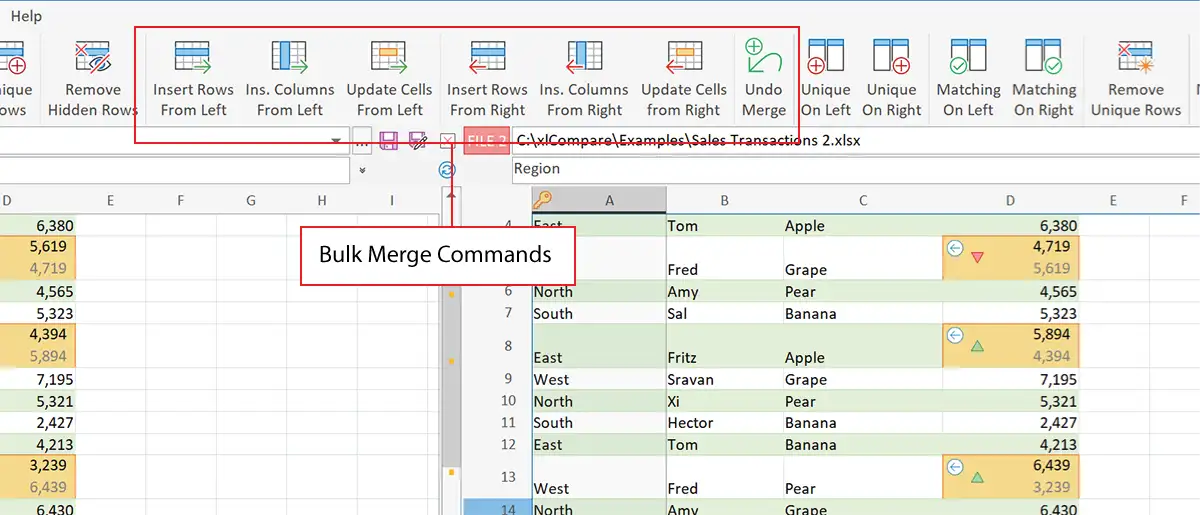 Filter worksheet data you want to compare with Excel diff tool
Reduce comparison noise by selecting cell and formatting options included into comparison. Define comparison strategy which is most suitable for the data you have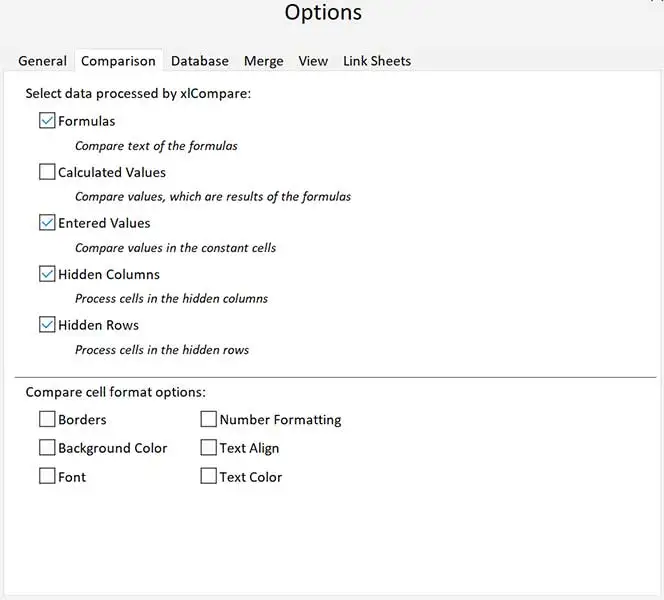 Exclude Hidden Rows
Hide rows or columns and this data will be excluded from comparison.
Calculated Values
If you are not interested in the calculated cells - exclude them and compare only formulas.
Ignore Formatting
Very often cell formatting produce comparison noise. You can ignore it.
Compare Visual Basic Modules, Forms and Controls
Detailed comparison of the contents of VB Projects in your workbooks. Compare changes in the Class and Code Modules and Form Controls.
A must have tool for VBA developers!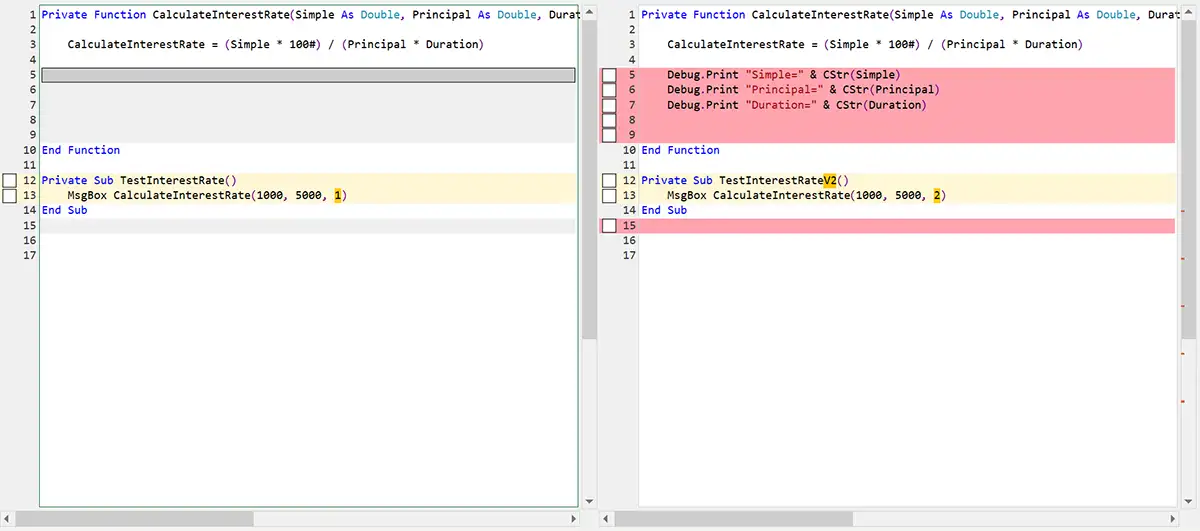 Modified Code
xlCompare finds changes in the VBA Modules and displays them with color formatting.
Changed Form Controls
If you've modified form control - it will be detected and displayed by xlCompare.
Merge Projects
Fast and Easy to use commands to merge changes found in the VBA Code and Form Controls. Resolve conflicted modifications just in a few clicks!
From the first look VBA projects are text files, that should be compared like regular text documents. Yes, sure you can use this
method
. But we are using function level comparison method. Changes are detected on the function level. This gives better and accurate results. xlCompare gives you a powerful tool that does all you need to
compare and merge Visual Basic code
.
xlCompare is an ultimate
spreadsheet compare
utility for a VBA developers and programmers who work in the team environment.
Compare and Merge VBA Forms
Compare and Merge VB Forms and Controls in a visual, native form. Just in a few clicks you get all changes applied to specific form.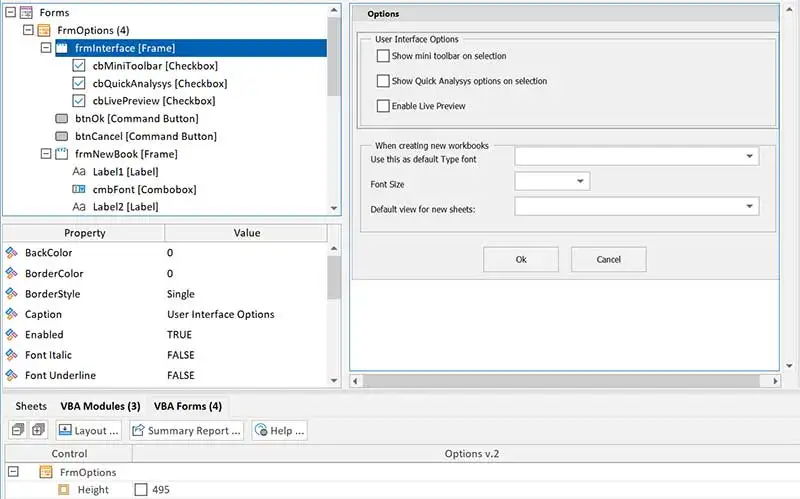 Merge Forms
If you have new VBA Form in one book, xlCompare will move it to other file.
Merge Controls
Your co-worked added new control - one click and it is added to your version.
Merge Properties
You've changed control background color on control - xlCompare will merge it into common version.
xlCompare has own Visual Basic Form editor
You see all controls on the Form including hidden ones.
This gives ability to display contents of the Form in it's native way. You see form exactly as it looks in Excel application. All form controls are combined into hierarchical tree structure - you can see it in the top-left pane of the editor. Properties of the selected control (Name, Font, Colors, Tab Index, Size and Position, ...) are below tree control in the list.
xlCompare is the most complete comparison utility for Visual Basic Projects
xlCompare compares code modules and form objects and controls. It detects:
New and Removed Code Modules
New and Removed Class Modules
New and Removed Form Objects
Changed lines of code in the Code Modules
New and Removed Controls on the Forms
New and Removed properties on the Forms
Changed properties in the Form Controls
Diff Viewer for Version Control Applications
2 and 3-Way Comparison
options with set of command line options allows to integrate xlCompare into Source Control System as Diff Viewer and Merge Tool.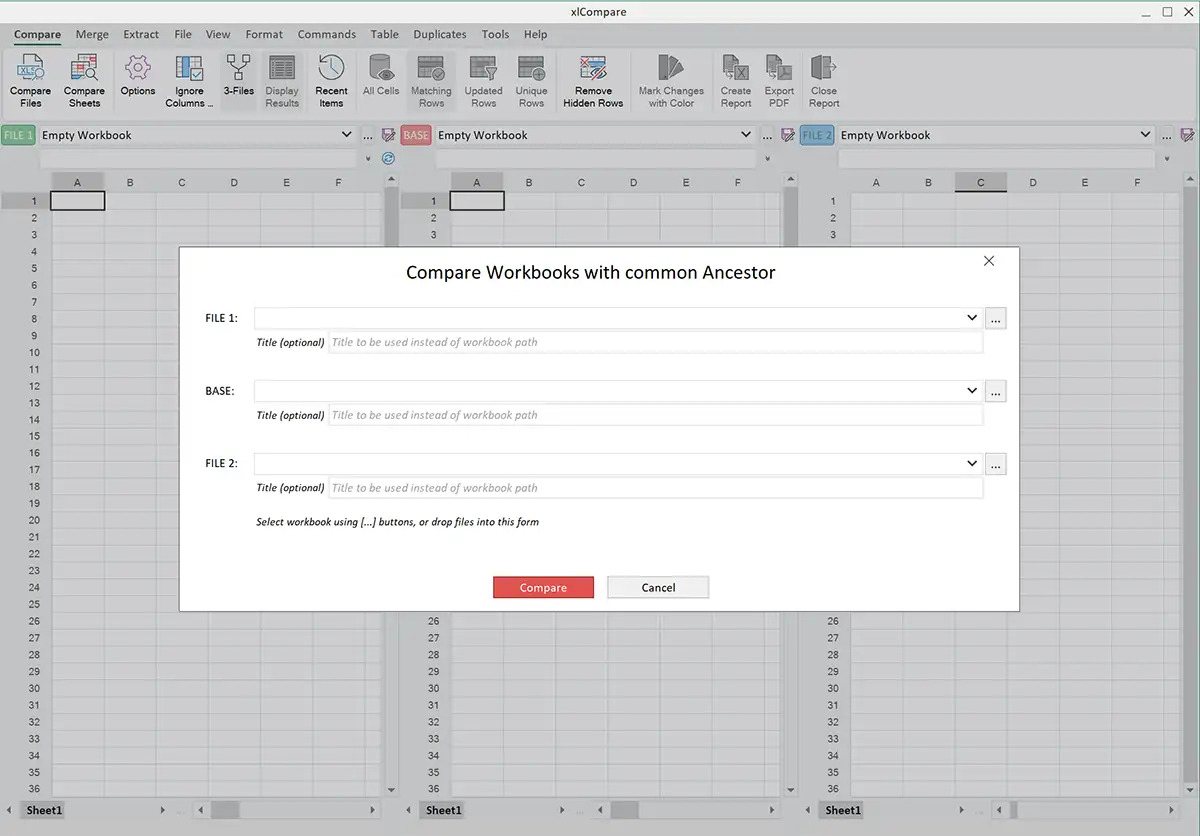 Compare Files with Common Base Version
Use 3-Way comparison mode to compare changes made by you and your co-worker in the same version of workbook.
Resolve Merge Conflicts
One of the most complex version control tasks with Excel Workbooks - is to resolve conflicts between different versions of the same workbook. xlCompare compares 3 versions of Excel workbook - YOUR, BASE and THEIR and gives you comprehensive report of the changes made, with ability to merge changes and resolve conflicts.
External Diff Viewer for SVN\GIT Tools
We offer rich set of the command line options, which cover requirements of the SVN\GIT Applications.
Resolve conflicts between different versions of same workbook
When working on the shared workbook with your colleagues, you often get conflicting changes in Excel cells. Few seconds and you resolve them with xlCompare.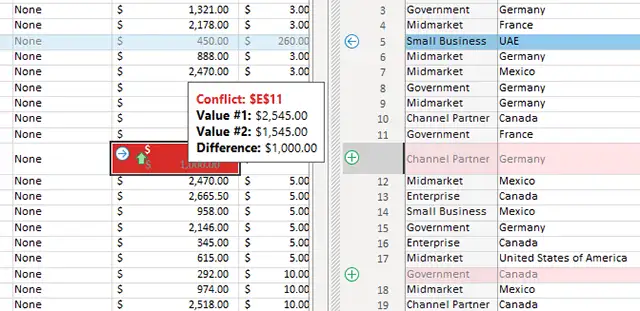 Highlighted Conflicts
All conflicted cells are marked by colors exactly in the workbook. Conflicts has red color to be more highlighted then other diffs.
Synchronized Rows
Inserted\Deleted rows are virtually inserted into same place in the corresponding workbook. This gives native look for the modified sheets. Conflicted changes appear one versus one.
In-place Tooltip Report
Put cursor over the conflicted cell to get detailed report about the changes made.
Number of spreadsheet tools you are getting for free with xlCompare
xlCompare - is more that usual Excel diff tool, that
compares Excel files
and gives you report with highlighted changes. Our Excel file comparison tool gives you set of extra commands for free. For example look into the article below to see how you can debug formulas in your Excel models. All commands that trace precedents and analyze calculations are available in the Evaluation Version of Excel file comparison tool and also works in the expired version of the Excel diff tool (xlCompare).
Excel gives you commands to evaluate formulas and see how it is calculated. But, try using Excel diff tool (xlCompare) for this and you will never give it up!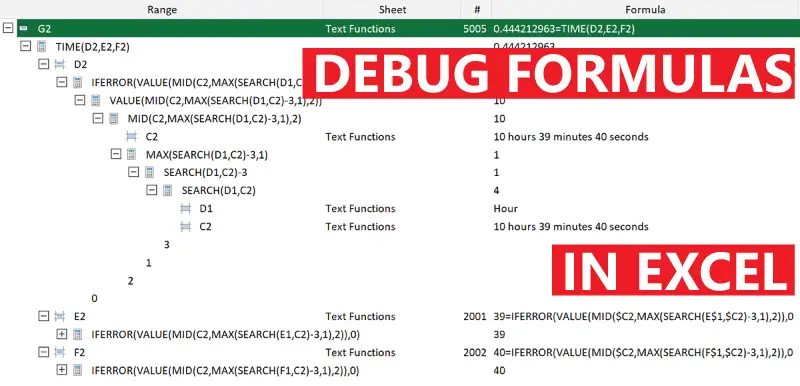 Trace Precedents in Excel File with xlCopmare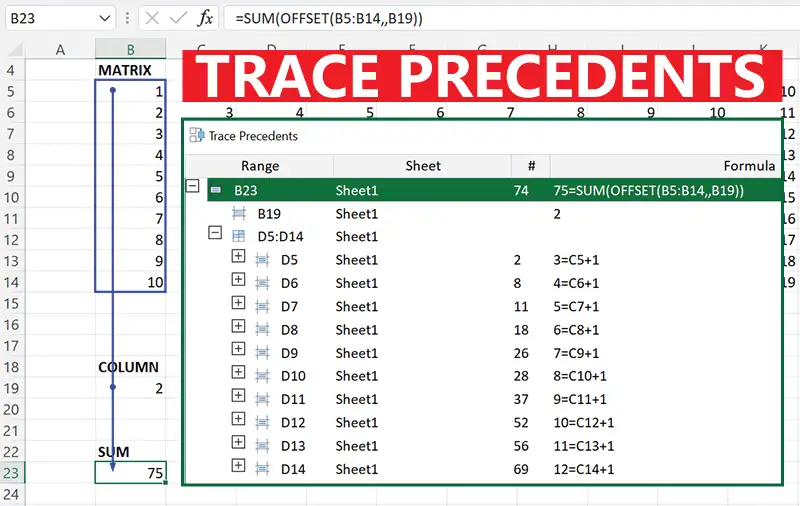 Number of free features constantly grows and we plan to increase it constantly in the future!
Join xlCompare space on Quora!
In this space we are sharing information about xlCompare and discussing various use cases. Post your question in this space to share it with community.
We will be happy to see you in the list of our followers and contributors!
I have a question regarding this Excel Diff Tool
Please, describe your question or inquery in the form below. We will be happy to respond you!
excel对比工具
Excel-Dateien auf Unterschiede vergleichen