Place your Order and Join family of xlCompare users
| | Professional | Professional, 5 |
| --- | --- | --- |
| Compare and Merge Worksheets | | |
| Compare VBA Projects | | |
| Command Line Mode | | |
| SVN\GIT Integration | | |
| Bulk Merge Commands | | |
| Trace and Debug Calculations | | |
| VBA automation | | |
| License for | 1 User | 5 Users |
| *-20% OFFER is valid until Dec 1 | | |
| | ORDER | ORDER |
xlCompare is more than Excel file comparison tool. This utility saves your working time and saves resources, you can use to grow your business.
Actual value of this tool - is an amount of saved time multiplied by your hourly rate :)
Order xlCompare by Invoice
Use the links above to order xlCompare by Credit Card, PayPal and other quick payment methods. But, if you would like to order xlCompare by Invoice, please contact us by e-mail to get a quote. Provide us number of licenses you need and get volume discount and Invoice.
Also, we would like to inform you that we are working with resellers like
SoftwareONE
,
SHI
and other software licensing and IT Asset Management companies. You can contact these companies to order xlCompare licenses for you.
Questions & Answers
Orders are processed by our e-commerce partner,
MyCommerce (Share*It)
(part of the Digital River), through a secure SSL connection. It supports a rich set of payment methods: All major Credit Cards, PayPal, Bank/Wire Transfer, ...
Yes, there will be NO FUTURE PAYMENTS. xlCompare is sold as a Lifetime License. It's not like a regular subscription. You pay once and receive a lifetime license.
Yes. If you are ordering 5 and more licenses, please contact us for a Coupon Code. We'll provide you a discount.
No. Spreadsheet Tools and Share-It does not collect your Credit Card data
No. If you've got new PC - you can transfer your license to this new computer. You can do it yourself on your account in the Customer Area, or you can send us an e-mail, and we'll do it for you.
One xlCompare license allows you to use the software on one PC. If you plan to use xlCompare on more than 1 computer - you will need a license for the every PC.
Yes. Free updates and unlimited technical support is included with your license. If you have any questions - contact us to get a prompt response.
Yes. Please contact us to receive additional information.
How to activate xlCompare on your PC?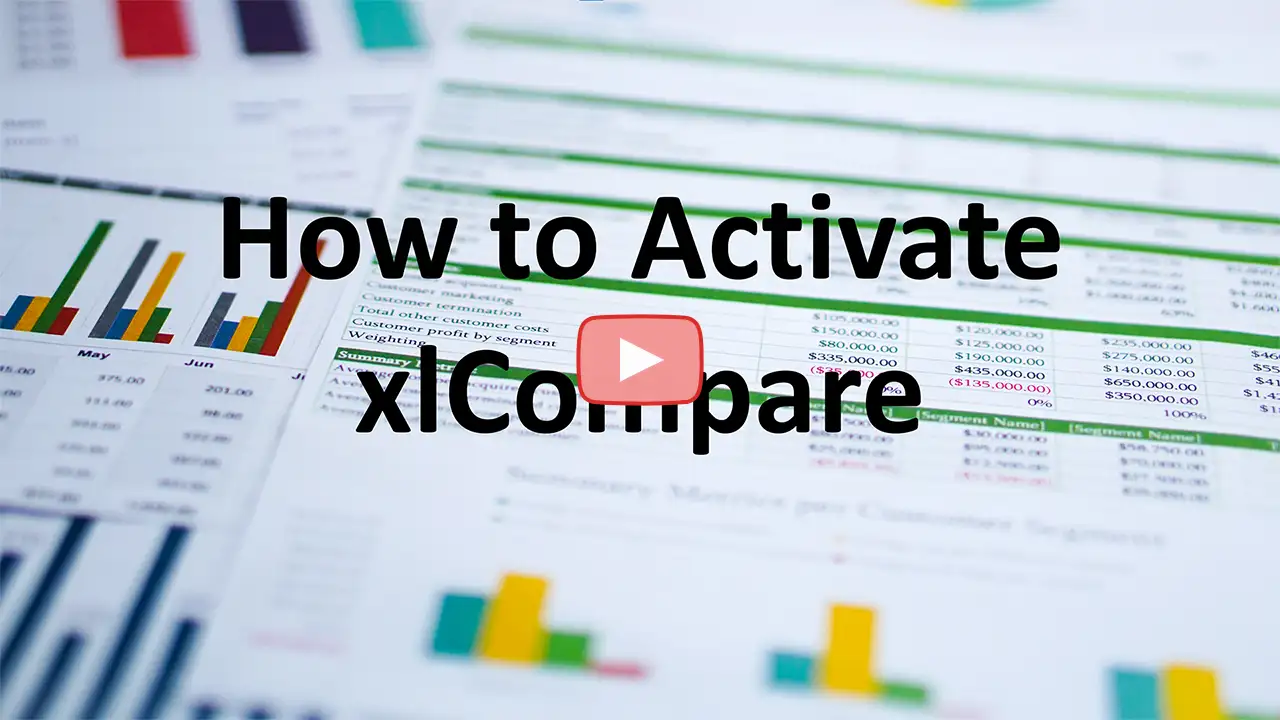 On the page below you find detailed step-by-step activation instructions. The activation procedure is quite simple and will take a few second only.
Should I pay VAT (Value Added Tax) when I order xlCompare?
If you have a VAT ID, you should not pay VAT when order our product.
Imagine that you are customer from United Kingdom. After you click on the Order button you will be navigating to the MyCommerce website. This is our e-commerce payment gateway. On this page you see higher price
USD 119.99
instead of
USD 99.99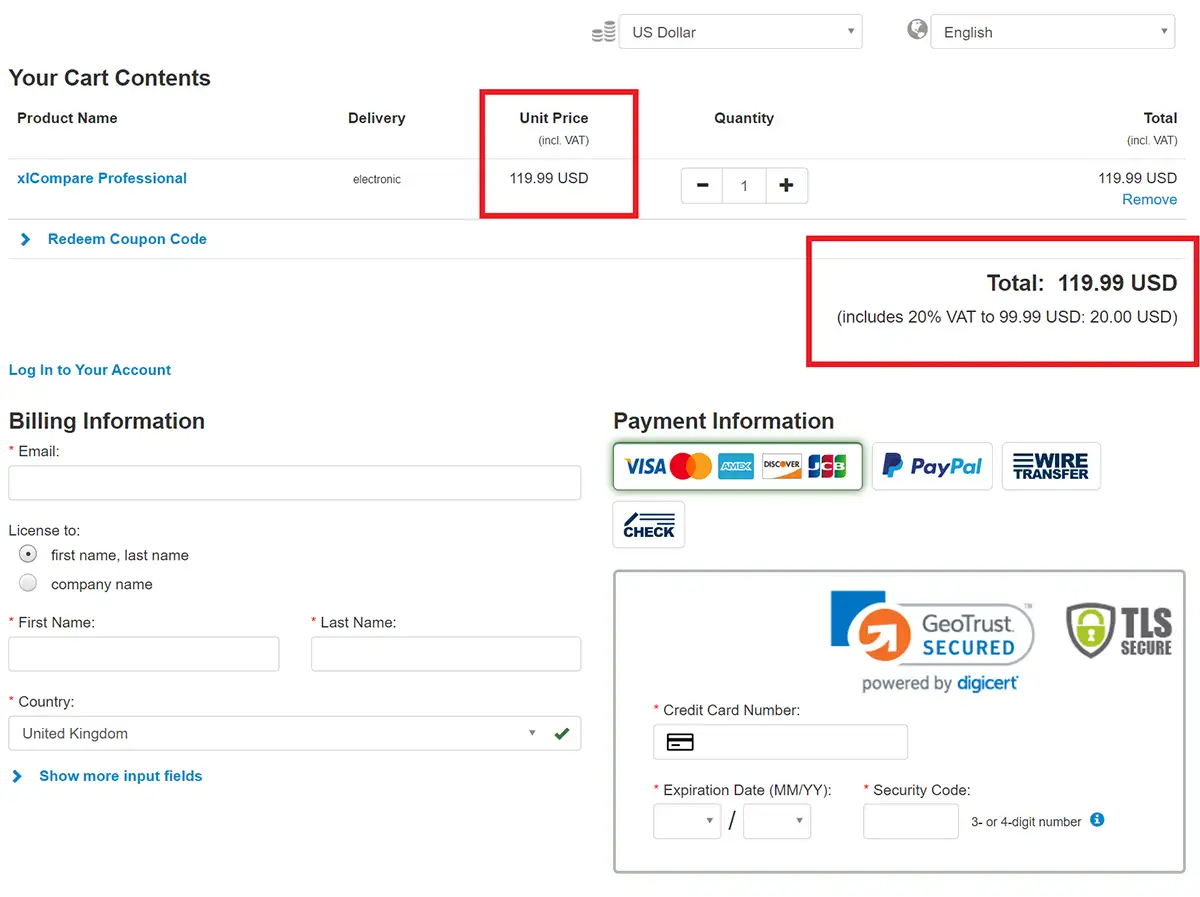 To get the right product price, that is shown on our website, click on the
Show more input fields
link.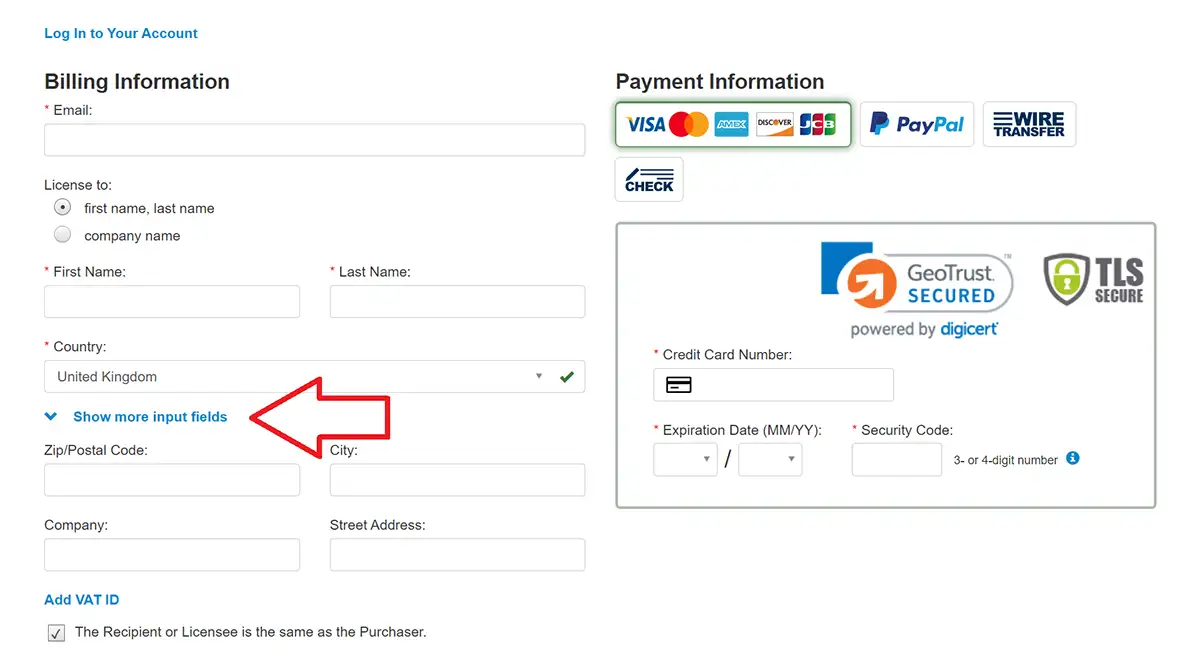 And then click on the
Add VAT ID
in the bottom of the opened form.
This link opens form where you need to enter valid VAT ID and close it by pressing
Update
button.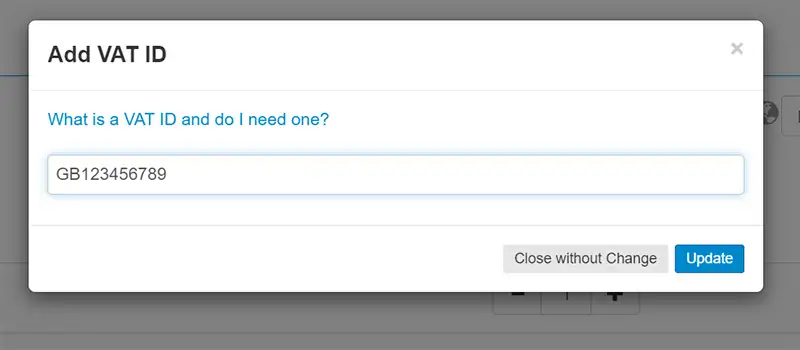 Now price is changed to
USD 99.99
, as it stated on our website.

Use this instruction to get the price published on our website –
USD 99.99
.
What to do if Add VAT ID option doesn't appear?
Please, make sure that you've selected your country properly in the Billing Information. If the selection is right – for your region it is not possible to exclude VAT.
What about ordering xlCompare by Invoice?
In case if you pay directly to our bank account, you don't pay VAT. License price in Invoice will exactly match price published on this page.
If you have any questions regarding VAT\TAX settings, please contact our Support Department.
I have a question about xlCompare
Please, describe your question or inquery in the form below. We will be happy to respond you!
If you would like to schedule a demo, please let us know time, appropriate for you.