Compare CSV files for differencies
How to effectively compare two CSV files for differences and get detailed report
Easy to use
Fast and accurate
Error free solution
Complete CSV file comparison
Command line mode
Create report
Merge CSV files
and more ...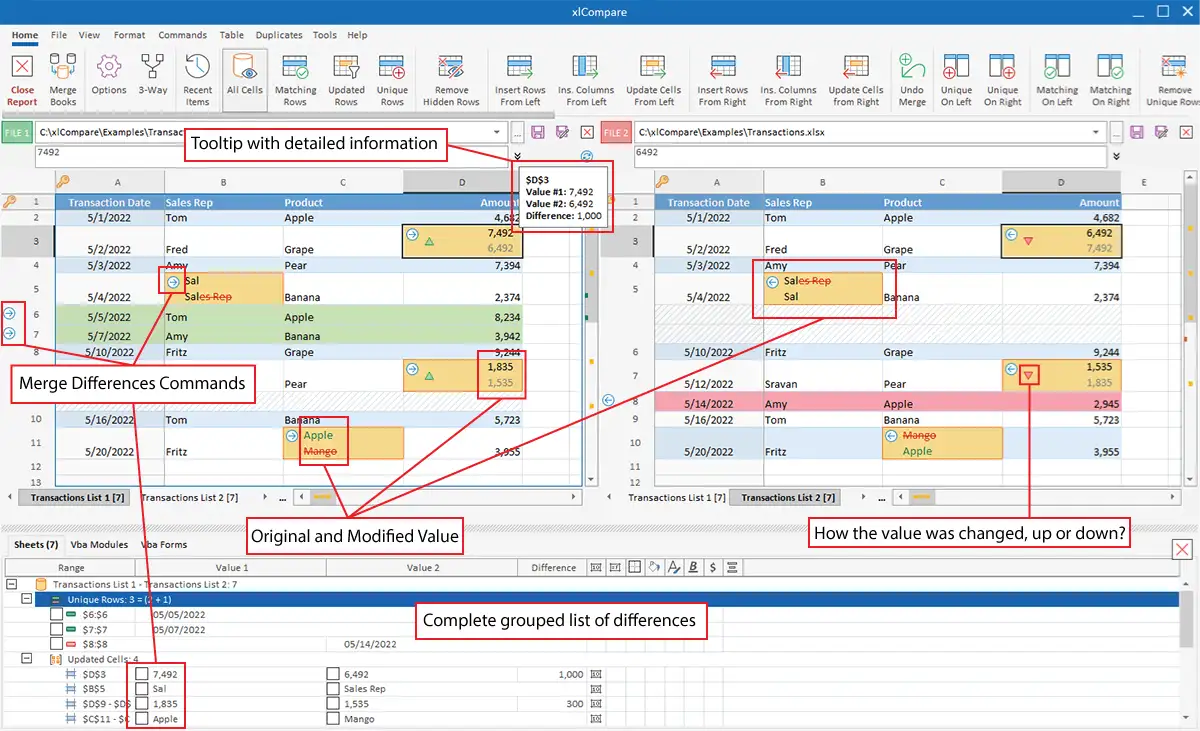 Compare and merge CSV files using best CSV diff tool xlCompare
Benefits of choosing xlCompare as CSV Diff Tool
What benefits you get if you choose xlCompare diff tool to compare and merge your CVS files:
Simplicity and Efficiency
We don't give you a CSV comparison tool, we are saving your working time and increasing productivity. This is primary aspect of xlCompare. In the modern world we are greately overloaded, so working time is a critical resource.
If you value your time you will make a choise.
| | |
| --- | --- |
| | Privacy. Your files are not uploaded to server to be compared. |
| | Efficiency. xlCompare is extremely fast on the large CSV files and Excel sheets. |
| | Compare CSV files by key columns |
| | Compare three 3 CSV files |
| | Merge CSV files into one |
| | Highlight differences with color and save it as Excel workbook |
| | Create difference report for compared CSV files |
| | Compare values with accuracy |
| | Modern interface designed to work with tables |
xlCompare works on thousands of computers around the world and is choosen by leading companies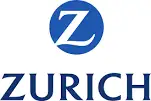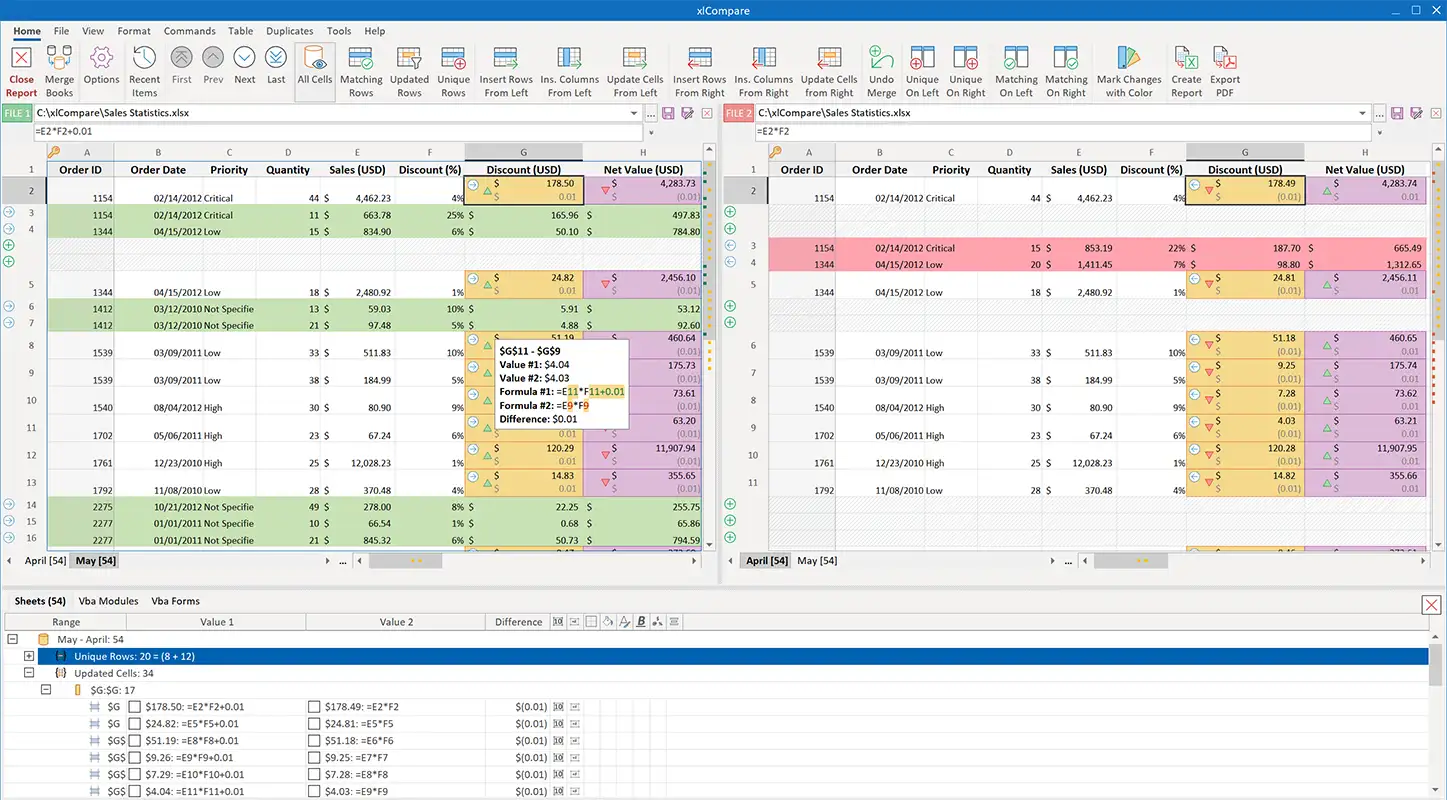 As a professional Excel/VBA developer, XLCompare has become a fundamental tool in my development process. It works on even the most code-heavy and complex of workbooks, and is something I just couldn't do without.
What are the reasons of using xlCompare to Compare and Merge CSV files?
Possible you are right. There are a number of free online csv diff tools, or you can find other way to compare your CSV files for free. If you CSV files are relatively small is simple, there are no reason to pay for a special tool. Also, you can use macros or conditional formatting commands to compare Excel files. These methods are very often described in the Internet. They are described in this article:
Complete quide how to compare Excel files
.
Below we describe some cases, when you can't use free online csv compare tools.
Peformance Issues
If you have a file with 100,000+ rows loading it into online application will take a time and processor resources. Browsers are not adopted to display very large tables. While xlCompare works with millions of cells.
Privacy
If you are working in the corporate environment or your data is highly confidential - free online diff checkers is not an option. You need to a desktop application installed on your computer.
Compare CSV file by Primary Key Columns
Online CSV diff tools doesn't have a commands to define and manage Primary Keys. xlCompare gives you an easy-to-user command to setup Primary Key on your worksheet.
Compare Unsorted Data
xlCompare has algorithms, designed to compare various unordered data tables. We will give you the best comparison results for your CSV files.
Mark Changed Cells in CSV Files with Color
xlCompare highlights differences found in CSV files and allows to mark them with color permanently. You can't save CSV file with formatting (this is text file), but you can save it as Excel workbook (XLSX) to keep the highlighted formatting.
Save Outlined Difference Report
In xlCompare you can export comparison results into the XLSX or PDF file with color formatting. Without comparison tool you get nothing. Just visual indication of the difference.
Compare 2 CSV files from the Command Line
Unfortunately online applications doesn't have a command line mode and can't be integrated into the GIT environment and other applications where CSV diff checker is required. Macros and conditional formatting is not an option at all. If you are working in the multi-user environment - you need a tool to resolve conflicts and merge changes.
Compare numbers in CSV files with Accuracy
This feature is not present in a free on-line csv diff checkers and worksheet comparison macros, available for free.
Ignore Specific Characters in CSV files
Simple CSV comparison applications doesn't have this option also. The same for macros and conditional formatting on the Excel worksheet. These commands were designed for other purposes, so they can't do excel file comparison job such efficiently, as xlcomparator.
Trim Strings and Convert Text Values to Numbers and Date Values
You can do this in Excel and paste your CSV into diff utility, but this requires extra step for you.
We can make this list longer and find other reasons to use comparison tools. All of them are summarized into this most valuable argument:
xlCompare significantly saves time, you spend to compare and merge CSV files. It allows to do excel file comparison job much faster and put focus into results of the comparison instead of putting into process.
If this is important for you - xlCompare is your reliable assistant. Otherwise - you can work without any csv diff checking tools.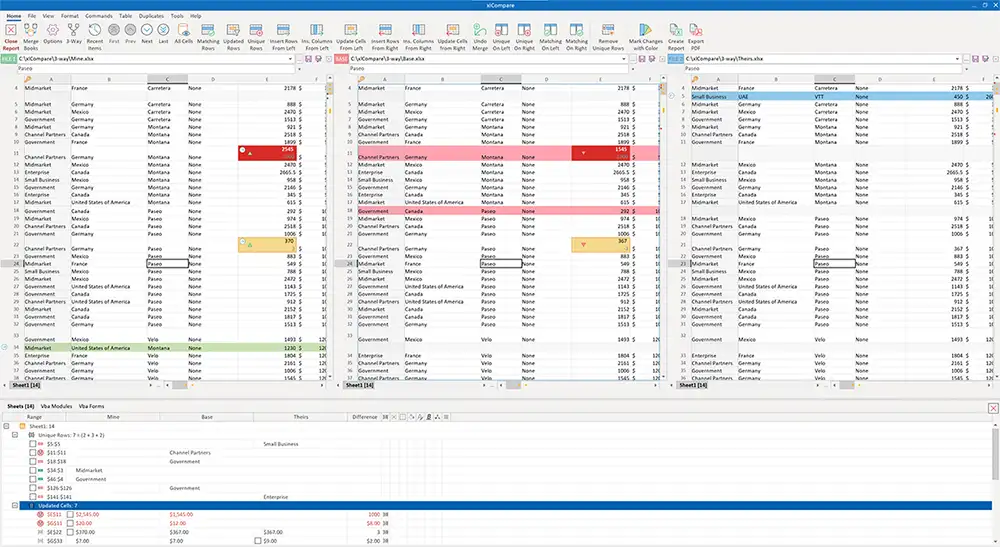 Very nice your software, the 3 ways blowed my mind out, I did a 2h job in 10 minutes (I looked 5 sec at my screen without moving because I was so surprised).
Olivier Regout
xlCompare gives you ability to perform excel worksheet comparison quickly and effectively. Armed with this tool you can focus on the results without waiting for them. If you value your time, you will make the choice!
How to compare 2 CSV files with xlCompare
Here we give you a short step by step instruction on how to compare 2 CSV files with xlCompare and what you can do with comparison results. After this we describe you benefits you are getting if you use xlCompare with your CSV files.
Drop CSV files right into the xlCompare window. In a moment you'll see your files opened side by side. One file in the left panel and another file in the right panel.

xlCompare makes initial processing of the every opened CSV file and defines Key columns and Key rows on the worksheet, if possible. You can change them in using Right Click menu commands if needed. But in the most cases xlCompare detects primary keys properly.

Use

Compare Files

button on the Home tab. We are ready to compare 2 CSV files.

xlCompare opens

Comparison Wizard

to show you which worksheet are compared and which algorithm is used for comparison. Normally CSV files contain database tables, so CSV comparison required Database Algorithms. However you can change algorithm in this Wizard and compare CSV files as General Worksheet or Cell by Cell if cells in your files have fixed positions and can't be moved or deleted.

Complete the Comparison Wizard to highlight changed cells in two compared csv files with color. In the options you can change colors and formatting options used to highlights the discrepancies.
Thats All! Now you have comparison results on your screen. You can start working with them.
Working with comparison results
xlCompare is not just a CSV file comparator. You can use all the features designed for Excel workbooks with CSV files.
| | |
| --- | --- |
| | Filter Duplicated Rows |
| | Copy All New Rows from into your file in single click |
| | Merge Rows, Columns and Single Cells. In single click you move changed values from file to file. |
| | Save color coded comparison report in the PDF. |
| | Export CSV comparison results into the XLSX file (excel workbook). |
This list is not complete, xlCompare is a feature rich CSV and XLS diff utility. This is a powerful tool in your hands, which significantly increases your productivity.
Best CSV file comparison tool
How to determine which tool for comparing CSV files is the best? Let's look which options you have:
Comparison tools for Excel files (XLSM,XLSX,XLS)

Online services for comparing CSV files
Comparison tools for text (TXT) files
Online service
is a good solution if your CSV file is relatively small and privacy aspect is not important for you.
If you are working with large files, or if data in your files is confidential - probably online service is not an option.
So, we go ahead to desktop applications.
Comparison tool for text files
can also handle CSV files, there will be no problems. Internally CSV file is a text document. Every text comparator will open it and process, even if your CSV file is large. Also, text comparison application may have an option to process CSV file like a table, not like a set of text lines, that more suitable for CSV files.
What are the advantages of xlCompare as CSV diff tool?
So, if you need to compare CSV files quickly and efficiently - choose xlCompare as your Spreadsheet Compare Tool!
How to compare CSV files online
If you search for
compare csv files
in google, you get some online comparators on the first positions. Actual question: So, why should xlCompare tool, if there are free online comparison tools for CSV files?
The main aspect is Privacy
In case of free online comparators you can't be sure that your data is not captured by someone else. If your data is confidential (for example you are working with list of users or transactions) this aspect is highly important. Also, strict policies in the corporate environments usually doesn't allow to access external websites.
So, desktop csv comparison tool like xlCompare is an ultimate solution for your company.
Other important aspect - Usability
CSV comparison tool xlCompare gives you much more options to filter comparison results and work with your CSV tables:
| | |
| --- | --- |
| | Filter edited cells |
| | Filter unique rows |
| | Filter equal rows |
| | Remove duplicate rows in CSV files |
| | Get intersection of two CSV files |
| | Create summary report for compared CSV files |
| | And more ... |
If value in CSV file is wide - try to resize column to set the most appropriate width. This is impossible in the online solutions. This displays difference in power of the application and webpage.
And last point we would like to note -
Algorithms inside the Tool
Try to define primary keys in the online comparator and compare records in your CSV files with key. This is impossible, but for xlCompare this is easy work!
We don't speak about command line mode. In this case online comparison tool is useless.
xlCompare was designed to compare data by Primary Key
. This is the most used option for CSV files.
Conclusion, for comparing CSV files online
If your file is relatively small and privacy aspect is not important - you can use free online comparison tool for CSV files.
But if you are working with large tables or your company doesn't allow to paste data into external website - xlCompare is the
best CSV comparison tool
for you.
How to Highlight Differences in two CSV files
If you have two CSV files you would like to compare and mark different values with color, xlCompare is a must have tool for this.
You need only a few clicks to get the results on your screen.
| | |
| --- | --- |
| 1. | Drop your CSV files into xlCompare Window |
| 2. | xlCompare gives you comparison results immediately. No extra actions required. |
| 3. | Now all differences that were found between two CSV files are highlighted with color. But this highlighting is virtual. |
| 4. | Use Mark Changes with Color command on the ribbon to make color highlighting permanent. |
| 5. | Save your workbook as XSLX file to keep the formatting. |
Your productivity is our primary goal. We don't just give you an xl comparator you can use to compare CSV files. We move your productivity to the highest level and save you working time.
How to merge data in multiple CSV files? Imagine you have a set of CSV files in folder, that you need to combine into one file.
The simple and the quickest solution is to open them in Excel and copy data into one file. This will take a few seconds probably for a pair of files. If this works for you – you don't need csv diff checker at all.
xlCompare is needed when you are:
Doing this (merge CSV files) regularly
Merge csv files from the command line in the batch mode
You need to highlight records copied from other CSV files
Exclude duplicate records, contained in other csv files
Data in your csv files are organized into tables with Primary Keys
In this case simple methods like copy and paste and visual basic macro will not help. This is not an effective solution, if it requires you to spend your time.
xlCompare will merge multiple CSV files for you just in a few clicks. This tool will save you a lot of working time.
Is there a way to compare two CSV files?
CSV file is very similar to Excel worksheet, so you can use methods described on this page to
compare excel files
. If you are using Excel application to compare two CSV files you can use Conditional Formatting options to highlight values, that doesn't match in two CSV files. Conditional Formatting is the best way to highlight discrepancies in two Excel files, but it has a significant limitation. Values you compare should be in same workbook, otherwise you will be unable to use Formula in the Conditional Formatting Rule. So, you need to copy values from two CSV files into one Excel workbook and use one of the methods to
compare excel files
.
To compare two CSV files in Excel, do the following:
Open CSV files in Excel
Tile your CSV files vertically with View Side-by-Side command
Enable Synchronius scrolling on the View tab
Browse through two CSV files and check the differences
xlCompare
is an ultimate tool to compare and merge CSV and Excel files. With this tool you don't need to copy worksheets and configure Conditional Formatting rules. xlCompare gives you immediate answer to question: are my CSV files equal?