FAQ: What are the options I need to know
If you open Options window in the xlCompare you may be a bit confused - this application has a lot of options. How to learn and use all of them.

xlCompare works with different kinds of worksheet data and gives you a number of options to tune up the comparison results. Most of the options changes some visual options of the software or allows to change the formatting or delimiter for text files.
All these options are rarely used and 90% of users normally don't change the default behavior. However, there are 2 pages you need to know about.
Comparison Rules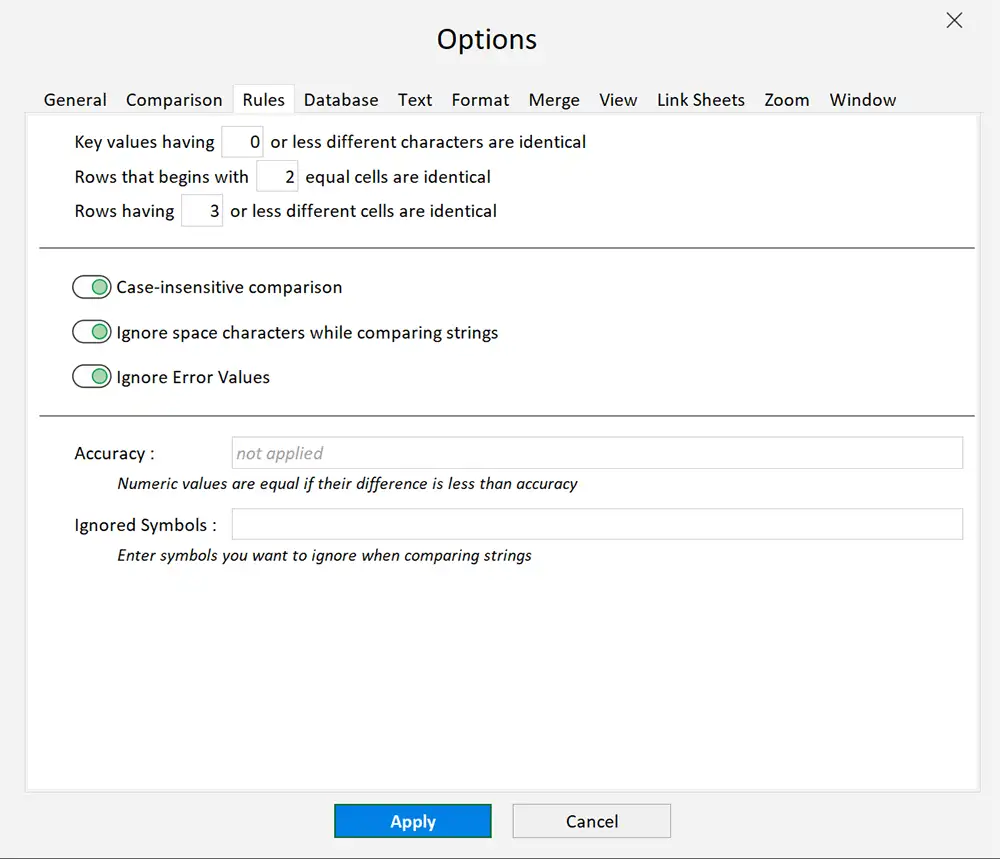 This is the most important page in the options. It defines set of rules used by the application to compare data on the Excel worksheets.
Here you can allow to ignore some minor typing mistakes in string values, ignore case in the text cells, ignore specific characters and specify the numeric accuracy.
Allow key values to be changed on your worksheets
Imaging that you are working with 2 worksheets where one file contains record about John Smith, and in the second file there is a typing error and name was imported as John Smitn.
xlCompare highlights you this difference as 2 unique rows - one colored with green and another one colored with red.
But this does not work for you, as you need to compare data for the John Smith from both files.
Use this option to allow difference in 1 character in the compared files. This will force xlCompare to think that both values are identical.
However, xlCompare will point you to the change in this cell. Both rows will be considered as matching and will be compared one versus one. This cell with username will be highlighted with orange color.
Rows that begin with N equal cells are identical
Imaging two rows where most of the cells are different. Should xlCompare consider them as unique and highlight with green and red fill color, or mark them as matching and compare one versus one?
This option is one of the rules that helps xlCompare to make the decision.
You can specify number of equal cells on the beginning of the row, that should advice xlCompare to that these rows are matching.
Rows having N or less different cells are identical
Next rule that solves same task - you manage the process of finding the matching rows.
This rule defines a limit, where xlCompare should think that rows are different or matching.
This is very simple criteria, and it can't be used in the general case, but you can use for the pair of specific worksheets to get the most accurate comparison results.
Case-insensitive comparison
You've got 2 worksheets where one contains record for John Smith starting his name from the capital letter and in the other file his record was imported as john smith.
But using this option you can ignore this difference or make it important and xlCompare will highlight it for you.
Ignore space characters
Again, this is a way to adjust the results of comparing text values.
Extra space in the username leads to thinking that this value is different. Trailing spaces in the values exported from the database or copied from the webpage produce a lot of unique values on the worksheets, instead of comparing them as matching.
So, this option is enabled by default.
But if you need to perform strict comparison to the find the exact compliances, you can turn it OFF.
Ignored Symbols
Here you can enter symbols that are not important.
Imagine that you've got two files, imported from the external database and one of them contains a lot of @ and # symbols on the character positions.
Should you edit all the file manually?
No. You need only to mark these symbols are ignored and that will not be considers when comparing string cells.
Comparison Options: what data is processed by xlCompare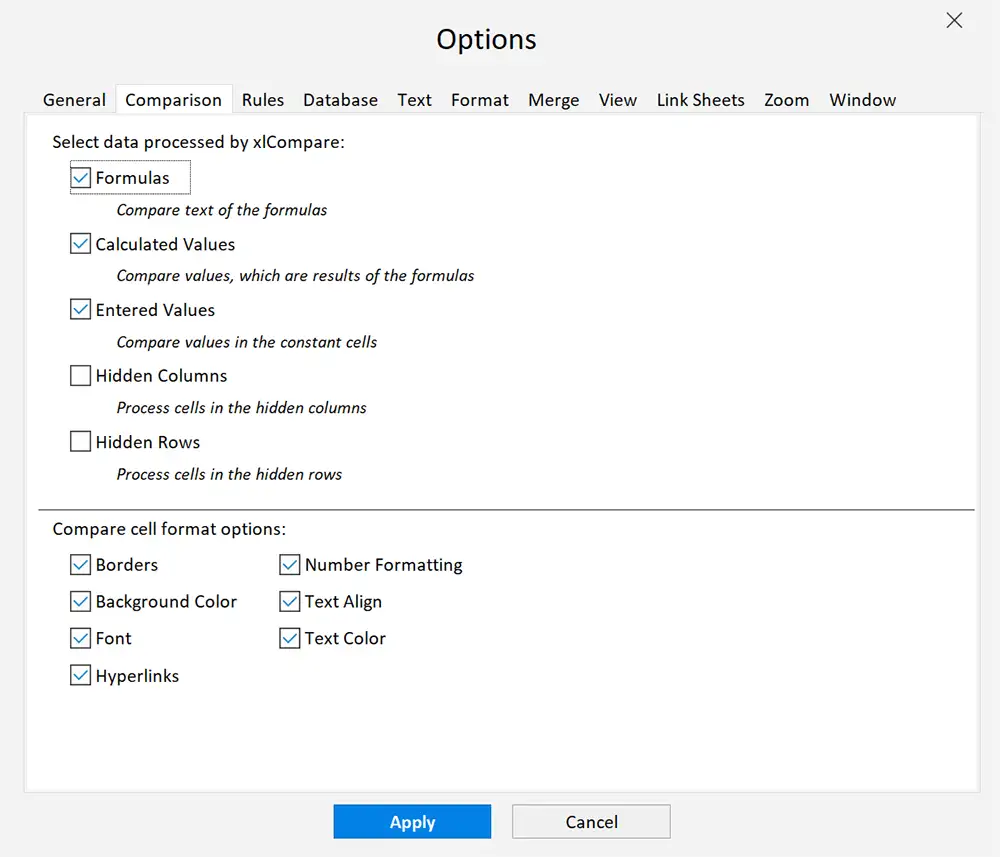 On this page all the options speak for itself.
You can ignore formulas and compare only their values.
Ignore constant cell values (input cells) on the worksheets and compare only calculated values, or only text of the formulas.
Compare only cell values on the sheets by excluding text of the formulas.
Cell styles are often producing differences that are highlighted with yellow color. On the large worksheets you may got a million of the reported cells and all of them are not important for you.
Exclude styles from comparison and xlCompare will focus on the cell values and formulas. This is a great option to reduce the comparison noise.
Conclusion
As you see xlCompare has a lot of options.
We've configured them in the way that should give you best results out of the box, so you should not tune the software.
You should not learn all the options in the product. But these two pages are important, so we suggest you take a brief look at them. Possible sometimes this information will help you.