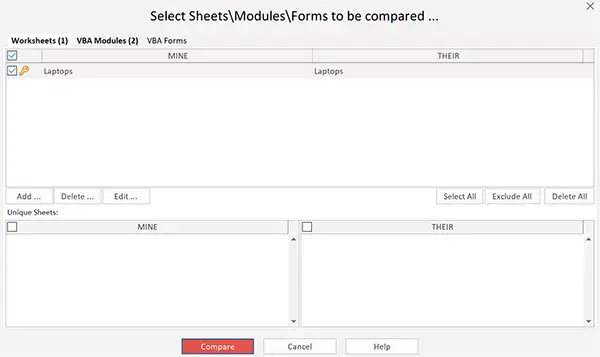 Worksheets are compared one versus one, grouped into pairs. Excel Compare needs to know which pairs of sheets you are going to compare.
Comparison Wizard
gives you a control on this process.
Here you need to define data to be compared.
Excel Compare groups worksheets with same names into pairs and give you a preliminary list of sheets to be compared.
Wizard is divided into 3 parts - Worksheets, VBA Modules and VBA Forms. Every tab display list of the grouped items.
Checked items will be included into comparison, unchecked ones - excluded.
You can change pairs and re-group the worksheets and VBA Modules and Forms in the Wizard Tabs.
In our example there is only 1 worksheet named Laptops and 2 Visual Basic Modules - Sheet1 and ThisWorkbook. We left this pair checked.
Our worksheet has only pricing records, and doesn't have Visual Basic Code, so we can ignore VBA items.
We select VBA Modules tab and use
Exclude All
button. This tells Excel Compare to excludes all VBA Module items. They immediately appear unchecked in the list.

On the Worksheets tab Laptops item is checked and has
Key icon
. This means that Excel Compare will use
Compare by Primary Key
algorithm for this sheet.

Double click
on this item or
Edit
button below this list opens window where you can change the algorithm.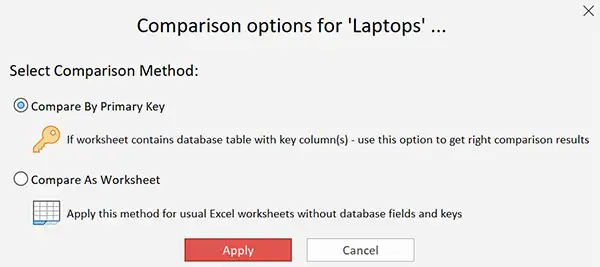 In our case initial selection is right and should not be changed.