Sending bug reports to Spreadsheet Tools
We are doing our best to find and quickly fix all possible issues in the software. Unfortunately it is not possible to create "ideal" software, which works without any problems.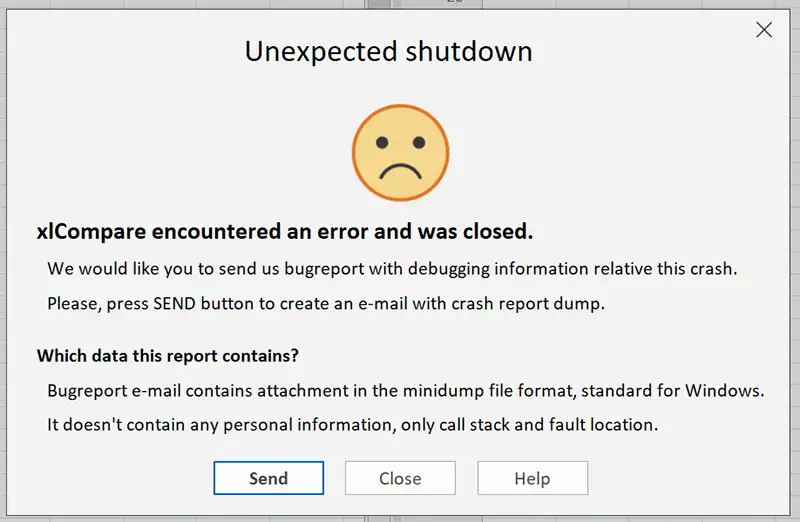 So, if you see this screen - xlCompare has crashed on your PC.
Send us mini-dump file
When the crash happens xlCompare produces and saves on disk additional information (Dump File). It describes context of this event - fault address, module, call stack. This is standard windows dump file. It doesn't contain any private information from your PC. You can send it to us safely.
Dump File when you click on the Send button, xlCompare creates an e-mail with this file in attachment. It doesn't send the file. E-mail is composed in your default mail client application.
Message with Dump is sent only when send it in your E-mail Client.
We need this information to quickly identify place where the crash happens. In this case we can fix issue in a minutes!
In most cases we provide a quick fix on the next day after receiving your report.
How to send Dump File myself without xlCompare?
Open Windows Explorer and type %TEMP% in the address bar and hit Enter
Windows Explorer should open AppData\Local\Temp folder. This is TEMP folder associated with your User Account in Windows
Find xlCompare subfolder and open it.
All Dump Files are stored in this folder and name of every file contains date and time of crash event.
Find the file which corresponds to the time of the crash you've got.
E-Mail us this file.
This operation will take less than a minute, but it is a great help for us in improving the software.
Thank you very much for sending us your questions and bugreports!