Best way to compare CSV files and instantly view the diffs
CSV files contain tables, so they are almost identical to Excel spreadsheets, that don't have formulas. You can load CSV files into Excel or another application that works with spreadsheets.
If you are familiar with Excel, probably the best way to compare two CSV files is to load them into Microsoft Excel and compare contents using Conditional Formatting or Visual Basic macro. Excel is very good in this business.
Why xlCompare?
What's the reason for choosing xlCompare for comparing two CSV files, if this can be done in Excel?
Imagine that you have two tables, with mixed records. They don't have fixed order, so common methods like conditional formatting and formulas or cell by cell comparison will not work. This is easy work for xlCompare. xlCompare allows you to define key columns and heading rows in your tables and compares your tables by key values.
Make it simple!
xlCompare transforms spreadsheet comparison into a short sequence of simple operations.
You should not be an experienced Excel user to use this tool. xlCompare is easy to use application. Just install the software, drop your files into xlCompare and get the results.
Looks simply? This is the primary goal of xlCompare - make CSV file comparison as easy as possible and present you with a perfect difference report.
Choose xlCompare as your diff tool for CSV files.
xlCompare is the best tool to compare Excel and CSV files for differences.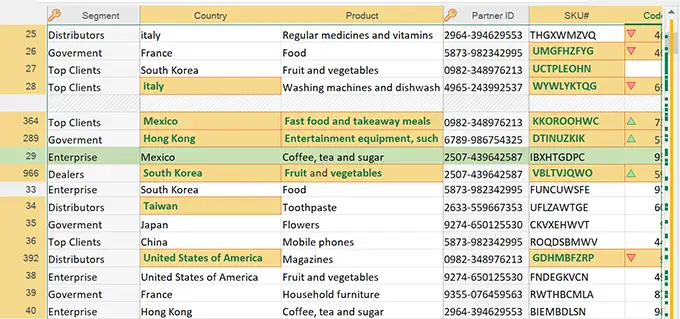 The screenshot above shows an example of the difference report you are getting for two CSV files.
Application is divided into two panels.
Each of them displays the contents of one of the CSV files with highlighted changes.
REDDIT